Why is Vietnam Visa On Arrival?
Visa on arrival is an alternative way to obtain a visa to Vietnam in addition to the traditional way of obtaining a visa at Vietnam Embassy or Consulates abroad.  It is an electronic visa which the travelers can pick up at one of four (04) Vietnamese International Airports (Noi Bai Int'l Airport in Hanoi, Tan Son Nhat Int'l Aiport in Ho Chi Minh City, Da Nang Int'l Airport in Da Nang or Cam Ranh Int'l Airport in Nha Trang) with pre-arranged visa approval letter issued by the Vietnam Immigration Department.
With this option, the applicants do not have to either deal with the Vietnam Embassy or send their original passport away, the only thing they need is an internet access (computer or mobile device) to submit the online form and get the visa approval letter via authorized Vietnam visa agency. With that letter and other required materials (valid passport, photos, stamping fee and entry and exit form), they will get visa stamped onto their passport at arrival airport. However, please be noted that visa on arrival is applicable for those who travel to Vietnam by air only. Others entries by train, bus, cruise ship… will not be supported with this kind of visa.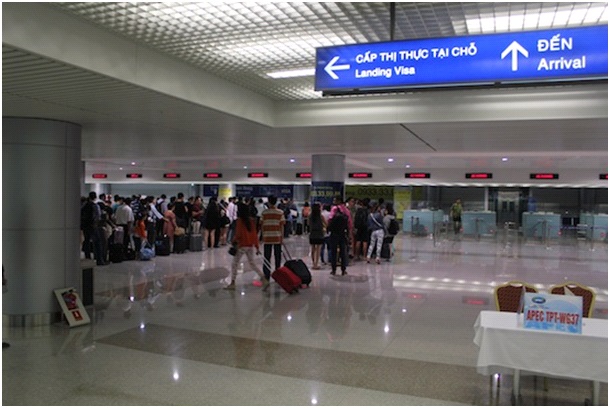 Legitimacy
Visa on arrival is officially issued by Vietnam Immigration Department thus it is 100% legitimate. Once issued, it has same validity with the visa get from Vietnamese Embassy or Consulates abroad. The visa on arrival process must comply with the Vietnamese Law which has been regulated in the Article 6, Chapter III of the Ordinance No. 24/2000/PL- UBTVQH 10 dated April 28, 2000 on Entry, Exit and Residence of Foreigners in Vietnam. It specifies that the foreigners who enter Vietnam for visit under programs organized by international tour enterprises of Vietnam will have to deal with a travel agent who will forward their visa applications over to the immigration office.
Legitimate visa approval letter
Visa approval letter is a document issued and confirmed by the Vietnam Immigration Department. When the travellers apply for a visa on arrival via www.entryvietnamvisa.com, they are guaranteed to receive legitimate visa approval letters. By showing the authorized visa approval letter at arrival airport, the travellers can get full visa stamped onto their passports very soon. At the airport, the immigration officers will verify the details on the visa approval letter based on the traveller's passport and the data transferred from the Vietnam Immigration Department. As long as the customers input the correct details when applying, they will definitely be granted entry visa. Without the approval letter, the travellers CAN NOT get on the international flights to Vietnam, or even they can get on board, they will be refused to immigrate into Vietnam.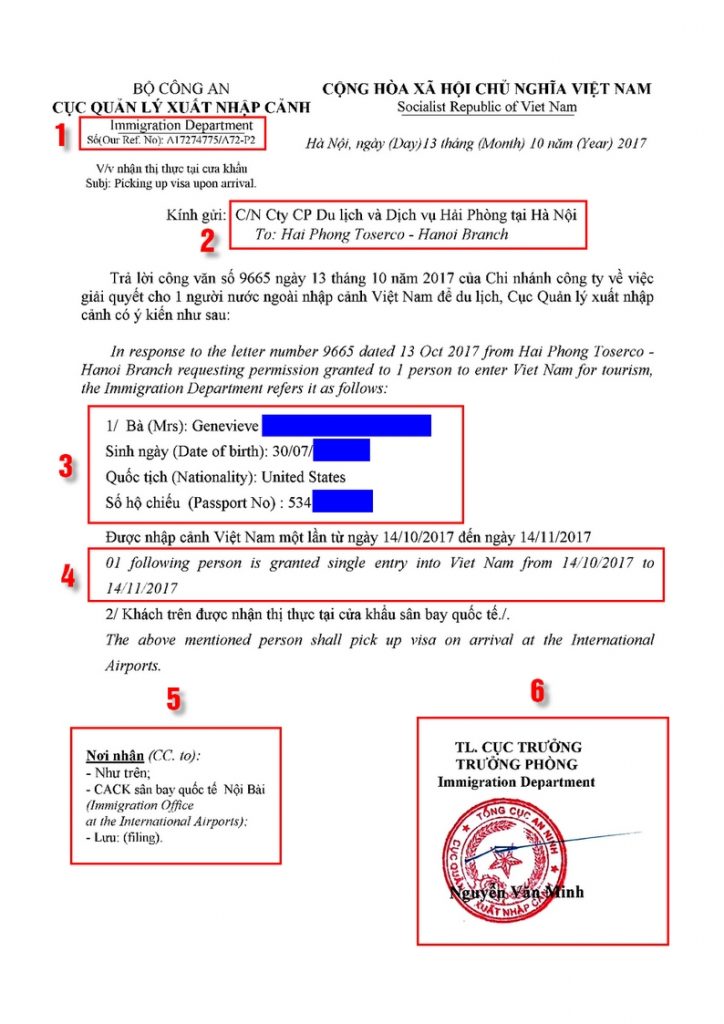 1. Your visa reference number given by the Vietnam Immigration Department. This number and your information will be transmitted to secure system of the Immigration Counter at Vietnam Airport.
2. Name of the agent who processed your visa approval letter.
3. Type of visa (single or multiple entry) and time that you are permitted to stay in Vietnam (1 month or 3 months).
4. Your information provided when filling in the online application form on the website. This must match your passport details.
5. A copy of this document will be sent to Immigration Checking Point for your customs clearance when you arrive in Vietnam Airport.
6. Official Stamp of Vietnam Government and signature of person in charge from the Vietnam Immigration Department for your visa confirmation.
Visa on arrival process
1. Fill out the online application form 
Access to authorized visa application form and fill out the form with required information. You are required to enter the exact personal information of the applicants as shown in the passports.
Please double check to make sure all information is correct, as once issued, the visa approval letter could not be amended.
2. Confirm and pay for service fee 
After making sure that all information is correct you will be redirected to the payment gateway where you can pay the service fee with your credit card, PayPal, bank wire transfer or Western Union. Please note that we do not collect your credit card information but it has been processed by PayPal secured payment gateway only.
3. Receive visa approval letter and getting visa stamped upon arrival 
After 02 working days (normal service), 1 working day (urgent service), 4 hours or 2 hours (emergency service) you will:
Get visa approval letter via email (attached together with the Entry and exit form);
Print out the letter and fill out the Entry and exit form;
Fill out the Entry and exit form with required information in advance to save your time at arrival airport;
Prepare 02 passport sized photos (4×6 cm) and an amount of money as stamping fee ($45 for single entry visa; $50 for 1 month or 3 months multiple entry visa and $135 for 1 year multiple entry visa). The stamping fee should be prepared in USD to avoid any unbalanced exchanged rate at the airport.
Put all above mentioned materials along with your passport in a package and show them to the Immigration Officers at arrival airport in Vietnam when you arrive.
4. Get your visa stamped upon arrival 
Upon arrival at 1 of 4 Vietnamese International Airports, present all above mentioned materials in the prepared package (your passport, visa approval letter, 2 passport sized photos, the completed Entry and exit form and stamping fee) to the Immigration officer to get your visa stamped.
(Our immigration airport fast track service is recommended for those who wish to save time in getting their visa stamp at the airports)
The difference between Vietnam visa on arrival and e-visa
From 1 February 2017, the travellers coming from 40 countries have 1 additional option to get Vietnam visa called e-visa (electronic visa). This is the new system to reduce barriers in visa processing, which is beneficial to the tourists staying in Vietnam less than 30 days.
 Item
 Visa on Arrival
 E- Visa
 Issuing authority
 Vietnam Immigration Department
 Beneficiaries
 All visitors travel to Vietnam by air
 Citizens of 40 countries in the list: Links
 Purpose of visit
 Vacation, business, family or friend visit, and others
 Vacation
 Visa validity
 – 1 month single/multiple entry;
– 3 months single/multiple entry;
– 6 months multiple entry;
– 1 year multiple entry.
 1 month single entry
 Visa fee
 Depending on visa type, refunded in case your visa application is refused
 US $25, non-refundable in case your visa application is refused
 How to get?
 1. Go online at https://entryvietnamvisa.com/apply-visa/ and complete the form;
2. Make payment of service fee;
3. Receive the visa approval letter via email;
4. Get visa stamped at Vietnam airport upon arrival by presenting original passport, photos, entry and exit form and stamping fee in cash.
 1. Go online to https://www.entryvietnamvisa.com  and complete the form and attach it with photos of yourself and your passport page;
2. Make payment of visa fee;
3. You will then be provided with a digital code to check the application progress and print the e-visa once it has been issued.
 Processing time
 2 working days, 1 working day or even a few hours to receive the visa approval letter
 Not sooner than 3 working days to know if your Vietnam visa application is approved or not
 Entry gate
All international airports in Vietnam, consisting of Noi Bai Airport in Hanoi, Cat Bi Airport in Hai Phong, Da Nang Airport in Da Nang, Tan Son Nhat Airport in Ho Chi Minh City, Cam Ranh Airport in Nha Trang and Phu Quoc Airport in Phu Quoc.
 Twenty eight (28) entry gates including 8 international airports, 13 international border gates, and 7 seaports across Vietnam
 Warning
It may, but just sometimes, take you up to 30 minutes or 1 hour to get visa stamped at Vietnam airport if there are too many people arriving at the same time.
As this kind of visa is very new, of which some certain airlines or even immigration staff at the airports may have not been aware and therefore may refuse it, you should check with your airlines in advance to avoid this.
Obviously, e-visa is an improvement in many ways for a better visa service of Vietnam. It's legal, convenient with procedure easy to follow but there are just some small difficulties of e-visa you should be aware of:
There is only one type of visa that is available on e-visa system: 30-day and single entry visa.
Working time for an e-visa to be processed is 3 business days, just as long as embassies' time while VOA agents only need two days or less (2 hours, 4 hours, one day) to get the application approved.
The fee once paid will never be returned even if your application get rejected while it's not the case with VOA.
You have to determine your arrival border crossings or airport before departure. Changing after applying for e-visa is not allowed.
The lack of service support from e-visa system.
The server links might sometimes be down due to overloaded access.
You can't extend your visa with e-visa.