Category: Vietnam visa
Vietnam Visa is the fastest, easiest, and most trusted way to get your Vietnamese visa online. Get info on the Vietnamese visa application process today!
Wait time for Vietnam visa on arrival: How long does it actually takes?
The wait time at Vietnam airport for visa on arrival depends largely on the numbers of arrivals and time of arrival. Some airports are very busy during peak hours, some are less busy, lets take a look on our wait time comparison chart below:
*This is an average wait time for non-holiday as it will be much busier during New Year, Christmas and Lunar New Year Holiday.
| Airport (BusiScore) | Wait time (Average) | Peak hours |
| --- | --- | --- |
| Ho Chi Minh city SGN (BusiScore: 10/10) | 15-30 minutes | 10:00 am to 02:00 pm (Busiest day: Friday) |
| Hanoi HAN (BusiScore: 8/10) | 10-20 minutes | 09:00 am to 03:00 pm (Friday usually sees the highest number of arrivals) |
| Da Nang DAD (BusiScore: 6/10) | Often less than 15 minutes | 11:00 am to 01:00 pm (Saturday is the busiest day) |
| Nha Trang NHA (BusiScore: 5/10) | Often less than 15 minutes | 08:00 am to 10:00 am (Busiest day: Thursday) |
| Hai Phong HPH (BusiScore: 4/10) | Often less than 15 minutes | 03:00 pm to 05:00 pm (Busiest day: Monday) |
Our tips
Prepare all documents before you go including photos, stamping fee in cash and the entry/exit form
Prepare the stamping fee in exact amount in USD or VND to save your time on money exchange
If you travel with children or seniors, please ask the immigration officers or other travelers for priority
Is Vietnam safe to travel? 12 things you should know when you visit Vietnam
Vietnam is a long-stretching, beautiful, historically and culturally rich and amazing country, and there are a few things that every person should know before they pack their bags and head to Vietnam.
Vietnam is a friendly and safe place to travel. With a sprinkling of common sense, your trip should be  smooth and trouble free. Tourists usually complain about over-aggressive street vendors, tour operators with a bad attitude and dangerous driving. However, with a cool head and sensible planning, one can avoid these problems.
DOS
Greetings are no different to western countries, there are no cultural formalities that as a foreigner you would be expected to know or practice.
Vietnamese dress conservatively. Despite the heat, it's best not to show off too much skin. If you do, especially girls, you'll only draw stares from the locals.
Dress well when visiting pagodas. No shorts or tatty beer t-shirts. Shoes are fine, and rarely will you have to remove them. If unsure, just follow what the locals do.
Drink plenty of bottled water, especially when walking around sightseeing. No need to carry huge bottles around with you, a vendor is never far away and no doubt they will find you before you find them.
Keep your cash, credit cards, airline tickets and other valuables in a safe place.
Travel with recommended tour agencies. Even if you plan to buy tickets when in country, research your journey a little first on the Internet. A good resource is Lonely Planet's Thorn Tree Forum, where fellow tourists discuss travel in Vietnam. This way you avoid unreliable tour agencies and badly run hotels.
DONTS
Wear a lot of jewellery or take a bag with you. Violent crime is highly unusual in Vietnam, but petty crime is more apparent. If you have a bag, or tout a digital camera around your neck, you are a potential target.
When taking a ride by motorbike taxi (xe om) make sure your bag, if any, is not on display or easy to grab. Bag snatches, although still rare, are probably the most likely crime a tourist would encounter, and it raises the probability immensely if you are tailing a camera or a laptop in the wind.
Don't wear singlets, shorts, skirts or dresses, or revealing clothes to temples or pagodas.
Physical displays of affection between lovers in public are frowned upon. That's why you may come across couples holding hands but not hugging or kissing.
Losing your temper in Vietnam means a loss of face. Keep a cool head and remain polite, you'll have a greater chance of getting what you want.
Remember, this is Vietnam, a developing country, and things don't quite work as you are maybe used to. Don't be paranoid about your safety, just be aware of your surroundings.
The Travel Guide to Vietnam Weather Seasons
Vietnam is one of the most enticing countries on earth. From lush jungle to delectable delicacies, your stay is sure to be memorable and fun. Once you have your Vietnam travel visa secured, it's time to start brushing up on your Vietnam travel tips and tricks and begin planning your itinerary. What you pack and the activities you participate in while in visiting will depend largely on the weather—so be prepared. What is the weather in Vietnam like? Like most places, the weather varies from location to location, even within the season. Make sure to double check the weather in regions you will be visiting before you pack your carry on and head out.
Vietnam is home to a rainy season (May-October) and a dry season (November-April). When making your travel plans, you can use this seasonal division as an easy way to tell which seasons are the best fit for the things you want to do.
Winter
Winter in Vietnam is comprised of December, January, and February. Winter months bring beautiful weather with mild to warm temperatures and little rain. If you've been wanting a vacation on a world famous beach, winter is the best of the weather seasons to take that trip. In southern Vietnam, winter weather means temperatures in the 70- to 80-degree F range.
In northern Vietnam, the weather is much different. Though drier than normal, the winter months still host a drizzle for much of the season. Temperatures are in the 50- to 60-degree F range as opposed to the south where things remain warmer. The sea can get a little bit choppy during the winter months, but with an experienced guide, you should have no problem exploring the way you want to. Central Vietnam is similar to northern Vietnam, though the central regions have a more mild version of the weather experienced to the north.
Spring
Spring in Vietnam is beautiful and can be quite hot and consists of the months of March, April, and May. May ushers in the rainy season, so if you are planning on traveling during this time, prep for high temperatures and lots of rain. When temperatures rise in the spring, so do sea temperatures and the water often becomes so warm that it does not make for a refreshing swim.
In the southern parts of Vietnam, temperatures fall in the 70s and 80s. Northern Vietnam weather in the spring is really rainy, but central Vietnam sees a little less of that rain. For people with health problems or limited mobility, May might be a difficult month to visit this stunning country due to high heat, humidity, and rain.
Summer
The lush greenery of Vietnam peaks in the summer and the weather in the three regions varies drastically. Summer months (June, July, August) continue to heat up. In the southern parts of Vietnam, the daytime boasts hot temperatures and lots and lots of rain. The showers can last up to a few hours each day but vary in frequency.
The middle region is milder and dryer, but come August, rains, and typhoons are king. If you are planning to travel to central Vietnam, August may not be the best month to go. The northern regions bring hot days, cooler nights, lots of rain, and relief in the form of an ocean breeze. Because the summer is hot and wet, bug repellant is essential.
Fall
Things cool off and dry up slightly during Vietnam's autumn season. The weather is still hot during September and October, but November brings great weather with a drop off in precipitation. For individuals wanting to get out and explore, November is a great month to travel in the northern and central regions of the country.
As a warning, Autumn can be a dangerous time in central Vietnam due to harsh weather conditions like hurricanes. Always be extremely careful when planning a trip that includes central Vietnam in the fall.
Vietnam is a stunning country with a rich culture. You have so much to look forward to, so check the weather and start planning today. Need additional help?
Businessmen's Guide to Vietnam Internet Access and WiFi
Are you a business traveler planning a trip to Vietnam? If so, the chances are very high that you're going to need access to a speedy internet connection while you're there. In this article, you'll learn everything there is to know about Vietnam internet access so you're never without a signal when you need it most. We've also included bonus information about getting your travel visa and making sure everything goes as planned.
Vietnam Internet Access
The beautiful country of Vietnam has become a popular travel destination for families, couples, and business travelers alike. In recent years, Vietnam has seen remarkable growth and an influx of income from the travel industry. What was once known as a rural and somewhat "behind-the-times" country in Asia has rapidly become a vibrant collection of bustling cities and a delightful fusion of French and Southeast Asian culture.
As Vietnam adapted to the expectations of tourists and travelers, wireless internet access improved a great deal and spread throughout the entire country—save for a few national parks and rural farming communities.
As a business traveler, you'll be pleased to learn that Vietnam's internet access is readily available to fulfill your wireless needs.
In Your Hotel, Hostel, or Guest House
The travel industry in Vietnam quickly learned that internet access was a must for most travelers, whether those travelers were visiting to experience authentic Vietnamese culture or engage in an important business conference or meeting.
Because of this, almost every hotel, hostel, or guest house in the major cities offers their guests free Wi-Fi and a strong internet connection. As you search for the place you'll be staying at, we suggest you check the list of accommodations to ensure you'll have free access to the internet—merely as a precaution.
Restaurants with Wi-Fi
Perhaps you prefer to do business outside of your hotel room. Maybe you have a big presentation to deliver over a swanky lunch with a few valuable prospects. If this is the case, you should have no trouble finding a restaurant that provides Wi-Fi for their patrons. Here are a few great restaurants throughout Vietnam that provide free Wi-Fi hotspots through the Wiman mobile app.
Quán Ốc 20k Thanh Trúc in Ho Chi Minh City
Nhà hàng Việt Dung in Hanoi
La Maison 1888 in Da Nang
Internet Cafes in Vietnam
Do you like to work in a cozy corner armchair with a steaming cup of coffee in hand? There are plenty of internet cafes to choose from in Vietnam, but be warned, these places are often a popular hangout spot for chatty teens. If you really need to focus on your work, we suggest getting a corner table at a quiet restaurant or bringing a cup of coffee back to your hotel lobby. If you don't mind the hustle and bustle of the busy city cafe, it's a great place to get a feel for authentic Vietnamese culture while you work!
For the Important Details
Now that you know all about Vietnam's internet access, you can stop worrying about whether or not you'll have Wi-Fi and start squaring away the more important details of your trip and reading up on Vietnam's government policies for travelers. Use these quick links about obtaining your Travel Visa to plan your trip and make sure things go smoothly. Happy travels!
Guide to Hanoi Public Transportation
Are you planning a trip to the capital of Vietnam? Hanoi is a remarkable city loaded with historical architecture and a rich cultural blend of Southeast Asian, French, and Chinese influences. This fascinating and exciting city is a hotspot for travelers, but knowing how to get around the city is crucial for an enjoyable and memorable trip.
Once you've successfully obtained your travel visa for Vietnam, we strongly recommend you start planning your Hanoi transportation from one destination to the next. The narrow streets of this vibrant city are widely considered to be chaotic and even dangerous if you're not paying close attention to your surroundings. The roads are congested with merchants selling goods, stop-and-go buses, large trucks, cars, and perhaps more motorcycles and bicycles than you've ever seen in one place.
Traffic lights are relatively new to Hanoi, and you'll find that many drivers take the traffic light signals as more of a suggestion than a rule. Bikes and motorcycles weave through bumper to bumper traffic, sometimes even moving against the grain in the opposite direction.
All this means that in Hanoi public transport is recommended for foreign travelers. Use our guide to the Hanoi public transport system so you can spend more time enjoying the sites and less time trying to get to them.
The Bus
Riding a bus in Hanoi is a great way to experience the city like a local with the locals. The price is very affordable and the many bus stops that line the streets make this a convenient and simple option for getting around Vietnam. Buses typically run from 5:00am to 9:00pm, so if you're looking for a taste of local nightlife, you'll need to arrange for a different ride back to your hotel. It should also be mentioned that most buses will be very crowded, if not completely full, during the following times of the day:
6:30 am to 8:00 am
4:00 pm to 7:00 pm
The Traditional Taxi
Taking a taxi cab in Hanoi is the best way to get around for groups and families who'd like to ride together. Because the capital of Vietnam attracts a high volume of tourists, the taxi drivers in the city are reasonably friendly and often charge a very fair price for the ride. Some drivers charge by the mile using a meter, while others prefer to negotiate the pay.
If you plan to travel by taxi, make sure to carry small bills. It's not uncommon for taxi drivers to claim they don't have change, so if you don't want to tip way more than the customary amount, it's up to you to carry small bills.
Bicycle Taxis
If you've never taken a bicycle taxi (otherwise known as a Cyclo) then you may want to add it to your agenda simply for the unique experience of being peddled through the exciting streets of Hanoi. The cost of a Cyclo is negotiated before the ride and although this mode of transportation is often slower than the traditional taxi cab, it's also a very safe way to get around as you're less likely to get in a high-speed accident.
Motorcycle Taxi
A motorcycle taxi is locally referred to as a Xe Om (pronounced seh-ohm). While the ride is bound to be unique and exhilarating, you should know that this is by far the most dangerous way to get around the city. More often than not, you will not be provided with a helmet to wear while your driver weaves in and out of moving traffic at high speeds. Xe om drivers can be identified by a green pith helmet.
Get Your Travel Visa and Start Exploring!
Vietnam Visa makes it easier than ever to obtain your travel visa so you can begin your journey through the vibrant city of Hanoi. Use these quick links to find the information you need or visit our blog for more useful travel tips and information!
Ultimate Guide: How to Pack for Your Trip to Vietnam
Venturing into a new country means not always having the same comforts and conveniences you're used to. Unfortunately, bringing all those home comforts with you to Vietnam may prove too costly or impractical.
This article will tell you everything you need to know about what to pack for Vietnam to ensure you are comfortable and safe on your journey.
Vietnam Travel Tips

Deciding what you'll need during your trip depends on where in Vietnam you're going, what time of year you're traveling, and what you're planning to do while you're there.
Best Time to Travel
You'll most certainly want to take advantage of some of the country's outdoor activities, such as hiking, biking, a riverboat cruise, parks, and beaches. Vietnam has two distinct monsoon seasons (April-September in the south and May-October in the north), but don't let this deter you from traveling during these times. Some travelers prefer the rainy seasons because it's less crowded and the rain is usually short-lasting each day.
Vaccinations
You should also make sure you're up-to-date on your vaccines before you travel to Vietnam. Talk to your doctor to see if there are any boosters you should receive, as well as optional vaccines that will keep you healthy. You may want to inquire about a vaccine or treatment to prevent traveler's diarrhea, which can be caused by eating unusual food or poorly prepared foods and drinks.
Language
Most people in Vietnam do not speak English, so it's wise to enlist the help of a tour guide or stick to touristy areas.
Currency
The dong is the official Vietnamese currency. $1 US roughly equals 20,000 dongs. For the most part, you will need to pay for items with dongs, but some larger centers may accept credit cards or US dollars. You're likely to find many ATMs in tourist centers that can provide you with the right cash.
What to Pack for Vietnam
Once you've set your itinerary, it's time to start packing. Everyone's suitcase will vary, but the following items should be non-negotiable:
Clothing for Winter in Vietnam
Winters in northern Vietnam, including Hanoi, are usually dry from November through April. The weather is mostly cool, with temperatures ranging from 17-22°C (62-71°F). Southern winters in Vietnam, including Ho Chi Min City, are usually warm and dry, with temperatures averaging 25-35°C (77-95°F) year-round.
Cotton Shirts – Cotton is breathable, making it an ideal choice for the Vietnam climate. It's also easy to iron after being stuffed inside your suitcase, plus it's usually durable enough to withstand whatever activity you're doing.
Shorts – Two or three pairs of shorts will help keep you cool, plus they take up less space in your suitcase. Just make sure they're modest.
Dresses – Women will appreciate a light dress or two to keep them cool while shopping or doing other leisurely activities.
Long Skirt – Women who want to enter religious pagodas will need to have below-the-knee attire, such as a long skirt.
Long Pants – Having a pair of long pants can keep you drier on a rainy day, plus it helps keep the bugs off your legs.
Moisture-Wicking Shirt – If you plan to spend time outdoors, a moisture-wicking shirt is a must. These are especially helpful during rainy seasons, when you'll want to feel dry again as soon as possible.
Lightweight Rain Jacket – Even though it's technically dry season, you'll want a light rain jacket to prepare for whatever type of weather you encounter. Rain does still happen, though rarely.
Hat – Opt for a lightweight hat to keep the sun off your face.
Underwear – Sports bras and a thin base layer will make hiking and other outdoor activities more comfortable and enjoyable.
Sunglasses – You might want to bring two pairs, just in case.
Clothing for Summer in Vietnam
Summer signals rainy season for north Vietnam, with the wettest months spanning July, August, and September. South Vietnam also experiences its wet season, with the most rain falling in June, July, and August. However, the rain is usually fleeting, offering a brief but heavy downpour in mid-afternoon.
The above list for winter clothing remains almost the same for the summer, but with a few additions:
Poncho – If you're using motorbike transportation, opt for a full body poncho.
Extra Socks
Extra Towel
Footwear
Waterproof Shoes – No one likes traveling in soggy shoes with soaked socks. Make sure whatever shoes you bring will provide comfort all day.
Hiking Boots – Outdoor adventures like hiking and biking require good shoes. While hiking boots aren't exactly a necessity, they can make your time outside safer and more enjoyable.
Flip Flops – Open-toed shoes like sandals are perfect for shopping, dining, or a day at the water.
Lightweight Socks – You'll be doing plenty of walking, so make sure you choose socks that won't slow you down.
Hiking Socks – You should bring at least one pair of hiking socks, which should be thicker than normal socks to provide extra cushion and protection.
Health and Safety
Hand Sanitizer – Foreign germs can make you sick simply because they're foreign to you. There's nothing more miserable than trying to enjoy a vacation while you're sick.
Bug Repellent – Mosquitos are a nuisance here, so don't forget to slather yourself in bug spray every time you venture outside.
Cortisone Cream or Anti-Itch Medicine – In the event you forget to coat yourself with bug spray, make sure you have some anti-itch cream to combat any stray bug bites.
Disposable Toothbrush – Leave the electronic toothbrush at home and opt for one you can dispose of when you're done traveling, especially if you have to use the local water.
General Toiletries – Not all hotels or hostels will provide things like shampoo, conditioner, soap, lotion, and deodorant. It's helpful to buy refillable bottles than to bring full-sized toiletries with you.
Small First Aid Kit – You can buy a pre-made first aid kit complete with band-aids, antibiotic ointment, gauze, and other essentials. Or, make your own before you leave.
Sunscreen – Even on cloudy days, you'll want to protect yourself against U.V. rays. This is something you'll be glad not to buy when you get there, as it can get expensive.
Chapstick – Being outside can dry out your lips quickly.
Tissues – Tourists have noted that there's never a guarantee that restrooms will have toilet paper. Keep some tissues with you always.
Anti-Diarrhea Medicine – Traveler's diarrhea happens. Whether it's from introducing a new food to your body or drinking the local water, be prepared to stop it fast. Sleep Aids – Jet lag and the sheer fact you're in a new place can mess with your sleep rhythms. Consider bringing along some melatonin supplements to help you catch your zzz's.
Hair Care Products – Given Vietnam's humidity, there's no telling how your hair will behave. Make sure you bring things like hair ties, hair spray, bobby pins, and other essentials to tame your mane.
Travel Insurance – This is a huge must if you're traveling in Vietnam. Aside from things like changing travel plans, your traveler's insurance can help you get medical care in the event of an emergency.
Miscellaneous Travel Items
Travel Pillow – If you're venturing out of your main city, be prepared to spend some time on the road. Transportation is usually slow-going, and a travel pillow can help ease the ride a little.
Backpack – Opt for a comfortable backpack that's easy to carry and big enough to hold all the gear you'll need on the go. Bonus tip – bring a small padlock or two to secure your valuables.
Ear Plugs – If you're using public transportation or staying in a hostel, ear plugs can give you that little bit of peace and quiet you'll be craving.
Towel – A quick-dry towel can be a lifesaver if it rains. Also, not all lodging will have towels available.
Electronics Adapter – The power outlets in Vietnam aren't the same as back home, so you'll need an adapter if you're bringing any electronic devices.
Pre-Charged Power Banks – These are travel game-changers, ensuring you have a charged phone, tablet, iPod, or other devices at all times – no outlet required!
Water Bottle – Ideally, you'll bring one that has built-in filtration for the cleanest drinking water possible.
Packing Cubes – These storage buddies can help you keep your stuff organized, separate your dirty clothes from fresh ones, and help you fit more in your suitcase.
Flashlight – Opt for a small one that can attach to your backpack.
Zip-Closure Bags – These come in handy for a multitude of reasons. You'll be glad to have some with you.
Umbrella – If you're traveling in the summer, a small umbrella could be the only thing standing in between you and an unexpected downpour.
In Closing
here's no shortage of things to see and do in Vietnam, and you're almost guaranteed to run out of time before you can visit them all.
Don't start packing yet, though. You'll first need to secure a travel visa that will let you experience all that Vietnam has to offer. We can help you save time at the airport by helping you complete the necessary paperwork online. It's fast, easy, and can help you start enjoying your vacation from the moment your plane touches the ground.
Eating in Vietnam: The Must-Try Foods to Eat During Your Stay
Did you know Vietnamese cuisine is among the healthiest in the world?
It's true. Vietnamese dishes focus on flavorful fresh herbs and vegetables rather than dairy and oil often found throughout western diets.
Not only is traditional Vietnamese food healthy, but it's also delicious. Here's everything you need to know about Vietnamese street food and traditional cuisine before embarking on your journey.
Key Ingredients Found in Vietnamese Cuisine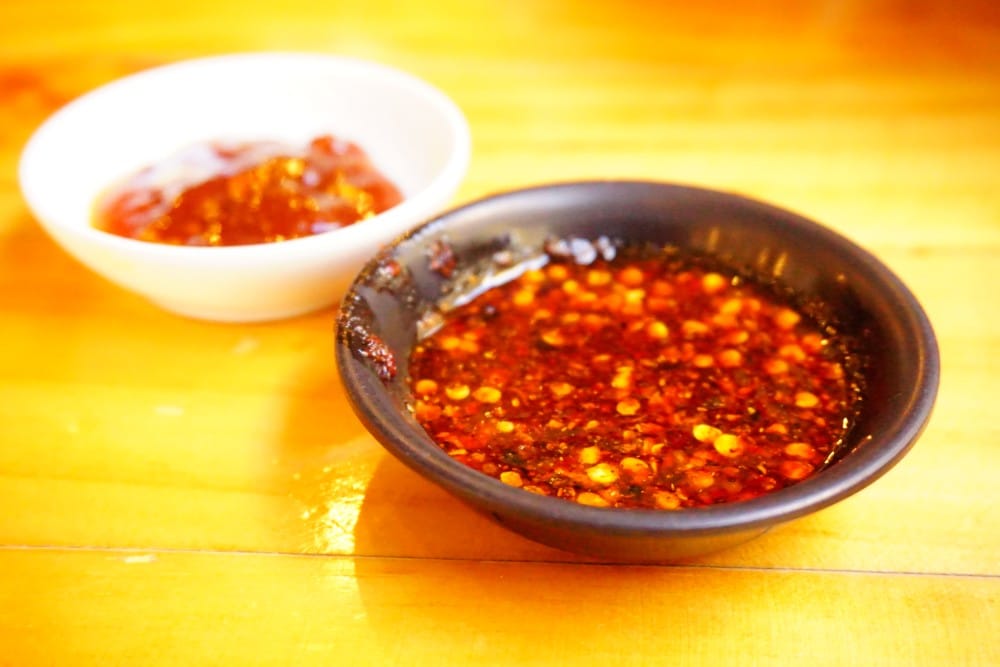 Traditional Vietnamese food is developed with a high level of mindfulness through the Asian principle of the five elements: water, wood, fire, earth, and metal. These elements work in harmony with colors, organs, spices, senses, and nutrients to create a balance that's most beneficial to the body.
The flavor combinations create a distinct balance between "hot" and "cool." All Vietnamese cuisine is designed with these basic principles of Yin and Yang in mind.
Some of the most common ingredients in Vietnamese dishes include:
Fish sauce
Soy sauce
Rice
Shrimp paste
Fresh vegetables like beans, cabbage, and cucumber
Tropical fruits
Flavorful spices include:
Mint
Ginger
Coriander
Cinnamon
Black pepper
Lemongrass
Basil
Lime
Bird's eye chili
What's with All the French Food?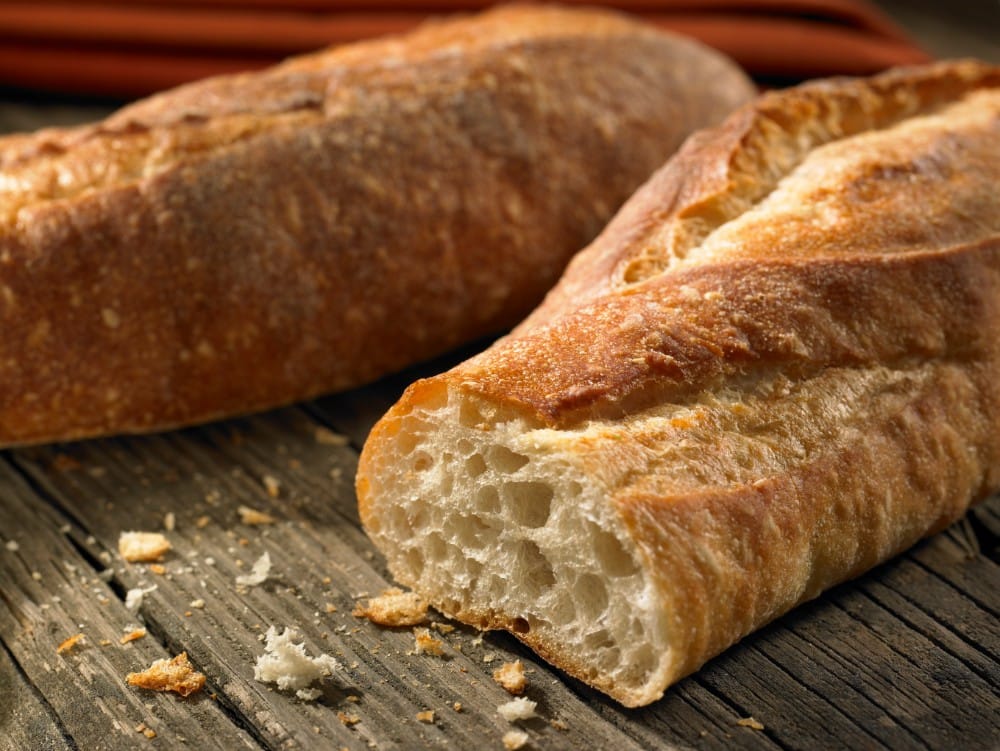 Western influence in Vietnam from France dates back several centuries with trading and military conquest.
France harshly ruled Vietnam as a colony for roughly 100 years until revolutionary leader Hồ Chí Minh declared independence in 1945 on behalf of the Vietnamese people.
French's military occupation is history, but the western influence remains in Vietnamese cuisine and fashion on the streets of Hồ Chí Minh city today. Vietnam has brilliantly incorporated French ingredients and food styles into their traditional cuisine with breads, pâtés, and grilled meats.
Traditional Vietnamese Food by Region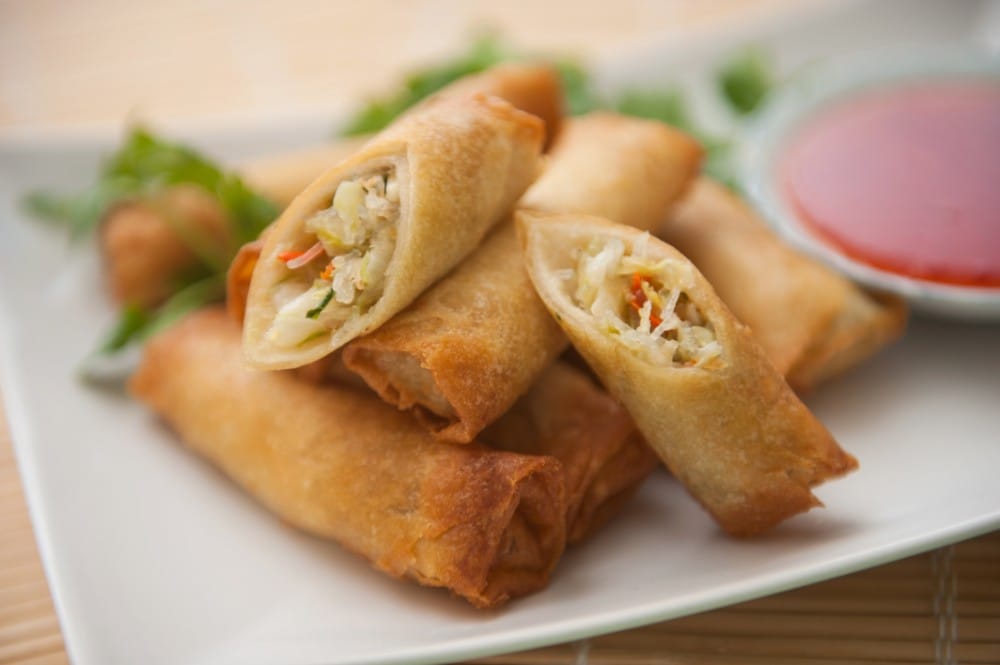 As you travel throughout Vietnam, you'll notice Vietnamese dishes vary depending on the region. These regional differences depend on local ingredient availability, fresh food sources, and traditional indigenous recipes.
North: Subtler Flavors and an Emphasis on Fish
Vietnamese dishes in the country's northern regions put less of an emphasis on bold spices and flavors.
Due to the north's colder climate, spices are harder to come by, so northern traditional Vietnamese dishes focus on flavors like black pepper instead of chili.
Livestock is also generally less abundant in the north, so instead you'll find Vietnamese street food that includes lots of crab, prawns, shrimp, mollusks, freshwater fish, and other shellfish.
Central: Complex Combinations and Small Plates
Lovers of spicy food will fall head over heels for central Vietnam's bold dishes and complex flavor combinations.
Central Vietnam is nestled in the mountains with rich and fertile soil which makes it ideal for cultivating flavorful spices.
Due to its location of the country's final dynasty, Vietnam's central region boasts sophisticated "royal" cuisine with bright colors and vibrant flavors like chili and, of course, seafood.
South: Vibrant Fruits, Herbs, and Veggies
Southern regions of Vietnam are also excellent for agriculture due to the warm tropic climate and fertile lands. For this reason, Vietnamese street food here is crafted with fresh herbs, fruits, and vegetables.
It's also an ideal location for raising livestock so dishes often include meatballs, beef, chicken, duck, or pork. Flavors in this region often include garlic, onions, shallots, and basil.
What sets Vietnamese food in the southern region apart? Sugar. Here you'll find sweet dishes with lots of coconut milk.
Vietnamese Dishes You Have to Try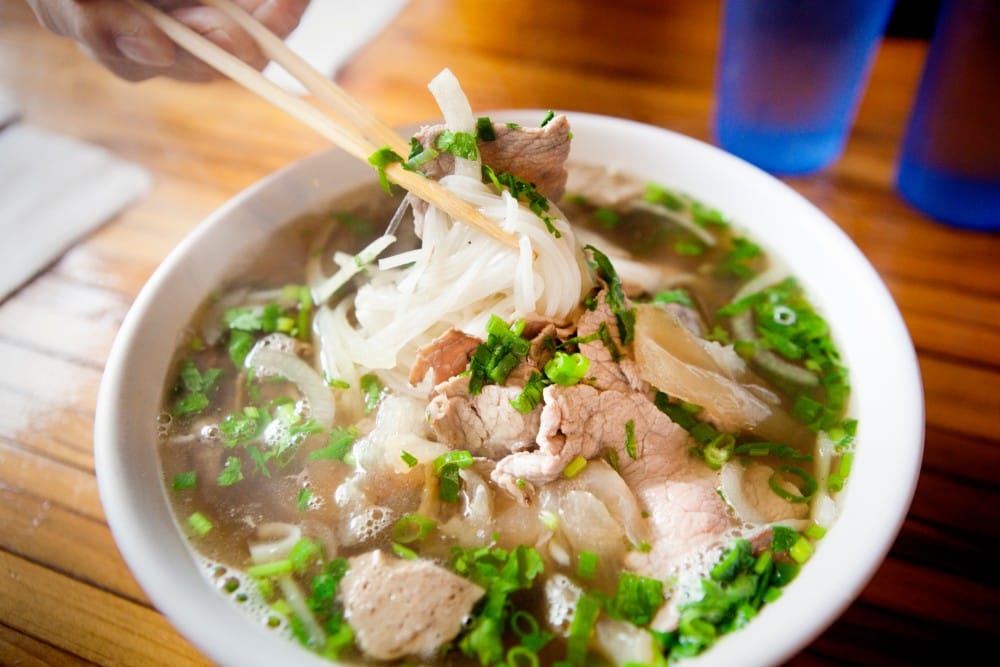 This is by no means a definitive list. Vietnamese cuisine is extensive, and it would be impossible to cover all the amazing Vietnamese dishes in one list.
Nonetheless, here are some of the best Vietnamese food you absolutely must try.
Phở: A soup made with rice noodles, beef, onions, bean sprouts, basil, and lime.
Gỏi cuốn: These Vietnamese summer rolls are usually filled with pork, shrimp, and vegetables.
Bánh rán: These deep-fried rice balls are a sweet and decadent snack.
Bánh căn: You can find these small pancakes in the south. They're made with quail eggs.
Canh chua: This sour soup really highlights the diversity of Vietnamese food with pineapple,
tomatoes, and other veggies.
Bánh mì: This is the classic fusion of Vietnamese and French cuisine in a delicious sandwich.
Chạo tôm: This dish is a shrimp cake grilled on a sugar cane stick.
Bánh xèo: Another fusion of east and west, this is a crepe made with rice flour and filled with
whatever ingredients you like.
Cha gio: These deep-fried spring rolls are generally filled with pork or other meat.
Drinks and Desserts
The flavors don't stop at dinner. Top off your meal with a tasty treat or maybe even a nightcap.
Bánh kẹp lá dứa: This is a waffle flavored with coconut.
Bánh bò: A spongy rice cake made with coconut milk.
Chendol chè bánh lọt: A sweet coconut drink with worm-shaped green jelly.
kẹo dừa: coconut hard candy.
Chanh muối: A salty and non-alcoholic limeade.
Rượu đế: Liquor distilled from rice.
Rượu cần: Wine made from rice.
Best Vietnamese Food Tips to Ensure Safety
Those with food allergies will want to take special care when traveling through Vietnam.
People with dairy allergies can enjoy many choices since cow's milk is often replaced with coconut or soy milk throughout the country.
Anyone with a shellfish, soy, or gluten allergy should take special consideration when planning their trip since most dishes contain various types of fish or shrimp sauce. You may want to consider switching to vegetarian meals for your trip – and you'll certainly have more than enough choices.
Ready for Some Vietnamese Street Food? Apply for Your Travel Visa Now
We make it easy to apply for your Vietnam visa without even leaving home. Visas are required for all foreign visitors entering and exiting the country.
By applying for your visa through our website, you can receive an approval letter within just a few days – or hours – depending on your urgency. Our process is fully supported and recognized by the Vietnamese Immigration Department.
Apply now or learn more about the process so you can taste the best Vietnamese food as soon as possible.
The Ultimate Guide to Vietnam Beaches
Vietnam is a premier destination for travelers around the world looking for an escape to crystal clear water and the beautiful beach resorts that are lined along the tropical coast. From photographic bungalows to more than 3400 km of irresistible coastline, the popularity of Vietnam's islands continues to increase year over year. Escape from the city and enjoy the pure luxury of the dream-like scenery that Vietnam has to offer..
From the ever-popular Nha Trang Beach to the more secluded Doc Let, whether you're looking to relax or explore during your time in Vietnam, the Vietnam islands are home to tons of different beaches that are fit for every budget, person, and experience. This guide shares insight on the best beaches to visit during your time in Vietnam.
The Best Beaches in Vietnam

Mui Ni Beach
Picture white sandy beaches with clear, blue water and you'll find yourself at Mui Ni beach. A beautiful fishing village that's perfect for travelers that are looking to meet the locals and connect with other tourists. With new resorts appearing on the shores of this popular destination, Mui Ni is becoming a haven for those seeking thrilling activities and exploration. While you're there, hike in "the fairy stream," adventure the white and red sand dunes, and surf the crystalline water. Whether you're at rest or at play, don't miss the immaculate, photogenic sunsets.
The best time to visit Mui Ni is between August and April of the following year.
Da Nang Beach
The third largest city in Vietnam, Da Nang is home to the popular China Beach. Formerly serving as a relaxation destination for US soldiers during the Vietnam War, the crystal blue water among natural pines and palms continues to uphold its charm. Da Nang beach is known as one of the best beaches in Vietnam with top-notch resorts, shopping destinations, impeccable cuisine, and a variety of activity options. Locals and visitors can explore the busy seafood market right on the coast, lounge on the sand, or pick up a game of volleyball. No matter what you do, you're experiencing a must-see destination that's perfect for the whole family.
High tourist season is between June and August. If you're looking to enjoy time among fewer travelers, February to May would be the best months to visit Da Nang beach. Be sure to check out this guide for more information on all of the best sites to visit while in Da Nang.
Bai Tru Beach
Bai Tru Beach is known for its popular attractions. Visit the huge amusement park called Vinpearl, an aquarium, amphitheater, mall and more. Travel to the beach from Nha Trang on the sea-crossing cable car, ferry, boat, or car. If you're looking to spend time at the beach, you will have to pay a fee, however, the fee includes a few perks! Bai Tru is a fun destination for the whole family.
The dry season during January to August is the time to visit Bai Tru. It is not recommended to visit during the wet season as torrential downpour and flooding are common.
Phu Quoc Island
Known for its white sandy shores and shallow, calm water, the beaches of Phu Quoc Island are perfect for snorkeling, diving, and kayaking. Phu Quoc sees fewer tourists than other beaches in Vietnam every year, giving the area a feeling of serenity with untouched foliage among the dirt roads and thick tropical forest. If you're looking for somewhere to stay, Long Beach holds large resorts and boutique hotels. Sao Beach is a popular spot for families with the more shallow ocean depths.
April through June, and also late October, are the best times to visit Phu Quoc if looking for fewer crowds and good weather.
Hoi An
Hoi An is a popular beach destination with various activities, food vendors, shopping, and hotel accommodations available along the shore. If you're looking for adventure, kayaking, jet skiing, motorbiking, and biking trips are plentiful along the main beach of Cua Dai. The city of Old Town is a great place to explore ancient tea warehouses and beautiful temples. Hoi An is a top cultural destination known as the perfect place to adventure and relax.
The dry season during February through July is the best time to visit Hoi An. If humidity is a factor in your decision, February to April would be best with cooler temperatures and less rain. Check out all of the unique offerings and culture of Hoi An in our ultimate travel guide.
Con Dao Islands
Con Dao is a group of sixteen islands off the southern coast of Vietnam known as a top tourist destination. From expansive beaches with golden sand to the coral reefs, tropical rainforests and warm water, the islands of Con Dao are a sight of pure beauty. Diving and hiking are popular activities year-round. The roads along the coast are great for spotting the wildlife of Vietnam's National Park. Snorkeling and swimming are also top activities of the Con Dao islands. Dam Trau Beach and Con Son Island are two highly sought out destinations of Con Dao. If you're picturing lying in a hammock under the shade of luscious palms, Dam Trau is the place to go.
November to February is the best time to visit the Con Dao Islands.
Phan Thiet
Phan Thiet is a fishing village great for a weekend of sightseeing. It is one of the most-visited areas of Vietnam with a few different beach options. While you're there, check out the brightly colored fishing boats and snap photos of the red sand dunes. If looking for top accommodations, stay in a bungalow at the popular Coco Beach Resort located here.
The best time to visit Phan Thiet is between November and April of the following year.
Nha Trang Beach
When visiting Nha Trang, you're visiting paradise. Nha Trang is part of the Khanh Hoa province and is one of the most popular destinations in Vietnam, seeing thousands of visitors every day. The beaches of Nha Trang are known for their beautiful, crystal clear water, endless days of sunshine, and variety of activities for both locals and visitors alike. If you're looking for a beach that has more to do than just lay and gaze at the luxury of rolling waves, Nha Trang is the place to go. Snorkel and explore the coral reefs, grab a bite of exquisite seafood, or partake in water sports like kitesurfing or banana boat riding. The resort, entertainment, and dining options are endless. Our travel guide has everything you need to know about visiting Nha Trang.
The dry season during January to August is the time to visit Nha Trang. It is not recommended to visit during the wet season as torrential downpour and flooding are common.
When it comes to picking which Nha Trang beach to visit, you have a few wonderful options!
Here are the top beaches of Nha Trang:
Tran Phu Beach
Tran Phu Beach is in the heart of the action and is walkable from almost all of the city. Tran Phu Street boasts top resorts, hostels, restaurants and more. If you are looking for great nightlife, Tran Phu Beach has a variety of beach clubs and popular bars. You'll find people surfing, shopping, biking, or meditating at every turn.
Hon Chong Beach
Hon Chong Beach is a more quiet destination just north of Tran Phu Beach. If you're seeking exploration, you can simply pay a small fee to climb the rocks around the water. Hon Chong beach is a relaxing and tranquil environment with a few quaint coffee shops and places to eat.
Doc Let Beach
Just north of Nha Trang, Doc Let is a backpackers paradise. With budget accommodations including lower cost hotel options, Doc Let is perfect for frugal travelers. The beach is known for its salt fields and white salt mountains. The scenery is somewhat undisturbed with few shops and fewer tourists, adding to the overall natural beauty and unique escape feeling that this beach holds.
Nhu Tien Beach
Nhu Tien Beach is a privately-owned beach known for true luxury that's perfect for the affluent traveler. Nhu Tien is home to the infamous Diamond Bay City, soon to hold 15 luxury resorts along the coast. The resorts of Nhu Tien offer many activities including snorkeling, kayaking, yoga, jet-skiing and more.
Jungle Beach
Jungle Beach is another option that backpackers are drawn to. It's located in Ninh Phuoc Village and is known as a relaxing getaway destination. Enjoy the ultimate jungle experience as you trek through the trees and spot the native animals like monkeys, douc langurs, slow loris and the eagles soaring above. Jungle Beach is also a great place for snorkeling, surfing, or picking up a game of sand volleyball.
Bai Dai Beach
Bai Dai is a secluded beach that's perfect for a day trip. The shops and restaurants boast a hippie vibe, green juice, and great beer. The Shack Vietnam is a popular spot for locals and tourists alike. Enjoy swimming, surfing and relaxing on the sand.
Traveling to Vietnam Beaches
No matter what beach or Vietnam island you decide to visit, you will certainly experience the awe-inspiring scenery and culture that the country has to offer. Every beach holds a unique experience fit for any traveler.
Are you ready to visit the beautiful beaches of Vietnam? Be sure to secure your Visa before you embark on your trip. Vietnam Visa makes the process quicker and easier. Simply click here to begin your application for a Visa in Vietnam.
The Ultimate Guide to Customs and Etiquette in Vietnam
Learning about a country's religion and culture is critical to avoid embarrassing situations. Accidentally offending the locals is everyone's worst nightmare. Here is a comprehensive etiquette guide to give you a quick overview of Vietnamese culture and customs. Having background knowledge of Vietnamese customs will ensure that you have the best possible experience on your trip to Vietnam.
Vietnamese Values
When discussing etiquette, it is important to have a general feel for the values and customs of a culture. It is almost impossible to remember an exhaustive list of etiquette rules. However, when you are aware of what the culture values, you can avoid doing things that are in opposition to those values.
The Vietnamese people value humility, restraint, and modesty. Avoid being boastful or showing off wealth. Public displays of affection are generally frowned upon so try to avoid touching people of the opposite sex. Dress conservatively and keep your body covered. The Vietnamese culture has a great respect for the elderly. In every situation, it is best to give honor and preference to the eldest member of the group. Keep reading for information about etiquette for specific activities such as visiting a religious site, greeting locals, dining, appropriate clothing, giving gifts, and avoiding social taboos.
Proper Etiquette for Visiting Religious Sites or Other Tourist Sites in Vietnam
Vietnam has sacred sites for both the Buddhist and Hindu religion. While visiting one of the beautiful religious sites like Mỹ Sơn (a popular sacred Hindu site,) the stunning Linh Phuoc Pagoda (a sacred Buddhist site) covered with mosaics in Da Lat, or the Ngoc Son Temple in Hanoi, it is important to show respect.
Since religious sites are popular attractions, it is important to be familiar with appropriate behavior and dress for sacred locations. When visiting a sacred spot, it is important to be respectful. While you are visiting there will be people who have come for religious worship and reflection. It is important that you don't become a distraction to those who are seeking peace. Something as simple as what you are wearing can cause a major distraction at a sacred site.
Tips for Visiting Sacred Sites:
Make sure to avoid wearing tight-fitting, overly short attire. Women should ensure that they wear a shirt with sleeves and shorts should come at least to the knee.
Remove hats when visiting a sacred site.
Head and feet actions to avoid:

The head is considered the most sacred spot of the body and the foot is seen as the least sacred.
You never touch the head of someone else since this is the most sacred spot of their body.
Do not point the soles of your feet toward anyone or any sacred statues, such as Buddha. This is considered very disrespectful.
Respectful Ways to Meet and Greet Locals, Including Proper Titles
Vietnamese is a tonal language, so the meaning of a word can change based on if your voice goes up or down at the end. For that reason, it is important to listen carefully to the words when you are trying to learn them. You can check out YouTube videos of native Vietnamese speakers to learn correct pronunciation and how to do the appropriate tones.
Hello
Say hello by saying "Xin Chao" (sin jow). Some people just say, "Chao" but that is better for people you are familiar with. When talking to strangers or someone older than you, it is better to say "Xin Chao" to show respect.
You can also say the appropriate form of "you" with Chao based on the age and gender of the person. Pronouns in Vietnam can be tricky because they are based both on the person speaking and who is listening. It is important to use the appropriate pronoun to avoid being disrespectful. A basic guide to pronoun use is shown below:
Female:       Word
em (ehm)       Same age
chị (cha-he)   Slightly older than you female
bà (ba ha)       Female that is 70 years old or older
Male:
em (ehm)       Young male
anh (ahh-n)   Slightly older than you male
ông (ohm)     Male that is 70 years old and older
How Are You?
When asking, "How are you?" it is important to use the correct form of "you," dependent on the gender and age of the person you are speaking to. "How are you?" is said "Khỏe không?"
To say, "how are you?" to a female that is younger than you, you would say "Em khỏe không?
Other Greetings
Good morning:   Chào buổi sang (Chow Bo Sang)
Good evening:    Chào buổi tối (Chow Bo)
If you want to learn more Vietnamese phrases, check out Essential Words and Phrases for Travelers to Vietnam.
Proper Eating and Drinking Etiquette
Before eating, say "Chúc mọi người ăn ngon miệng" (choo-k ma new-ey ang nong min). This means the same thing as "Enjoy," but also shows your excitement for the meal.
Oldest Eats First: Don't eat until the oldest person at the table begins eating.
Clean Plate: Make sure to eat all the food you are given, this is seen as a compliment. It is offensive to leave food on a plate.
No Picking Teeth: If you need to pick your teeth, cover your mouth with your hand.
Chopsticks are the most commonly-used eating utensil in Vietnam.
Don't hold your chopstick vertically straight up. The chopstick resembles an incense stick and could be seen as a reference to burning incense at a funeral. This is highly offensive.
No need to keep your bowl on the table. You can hold your bowl as close to your mouth as you like. This makes it easier to avoid spilling noodles.
Don't play with your chopsticks. Avoid clicking the bowl or hitting the table with your chopsticks.
Vietnam offers a variety of unique regional dishes and foods. Do your research before, so you make sure to experience the unique flavors for the regions you are visiting.
What to Wear in Vietnam
Overall, modest dress is considered the norm in Vietnam. However, you will find that in resort areas with a high concentration of tourists this may not be the case. When traveling throughout Vietnam, it is generally a good idea to wear long shorts and avoid revealing shirts. Covered shoulders and shorts to the knees provide an appropriate amount of coverage.
Make sure you pack items that will work well for warm, humid weather.
Breathable fabrics are best because they wick away moisture.
Avoid wearing thick, winter type clothes (like jeans or sweaters).
Bring a couple of long sleeve items for cooler temperatures so that you can layer.
Make sure to pack a lightweight raincoat.
Don't forget to make a packing list to ensure that you don't forget anything.
Respecting Others in Vietnam
Avoid looking over confident. Humility is admired.
It may be a habit to stand with your arms crossed, but avoid this posture when visiting Vietnam.
Don't stand with your hands on your hips.
Don't flaunt your money.
Don't criticize people. It is considered highly disrespectful.
Always give the highest amount of respect to those older than you. If wearing a hat, remove it when speaking to someone older.
Gift Giving in Vietnam
Giving a gift is a sign of respect and it is offensive to refuse a gift. If you are presented a gift, graciously accept it. If you are the recipient of a gift, do not open it in front of everyone. It is expected that you will open the gift later when you are alone.
When visiting someone's home, it is appropriate to provide a gift wrapped in bright wrapping paper.
Common taboos in Vietnam
Control Your Temper: Losing your temper or having an angry outburst is looked down upon.
Avoid Public Touching: Public displays of affection are not seen as appropriate. Avoid hugging, holding hands, and especially kissing in public. Even touching a member of the opposite sex is looked down upon.
Modesty: It is important to keep your body covered. Avoid overly short shorts and revealing shirts. It is best to wear shorts that go to the knee and shirts that cover the shoulders, especially away from touristy areas.
Head is Sacred: The head is considered the most sacred part of the body, so do not touch anyone on the head.
Both Hands: When you need to hand something to someone, make sure to use both hands. This is seen as respectful.
No Pointing: If you need to draw attention to something, use your whole hand. Do not point using one finger, that is considered disrespectful.
Shoes Off: When entering a home, it is customary to remove your shoes as a sign of respect.
Now that you know what to expect and how to show respect to the locals, it is time to start planning that trip. Don't forget, you will need to secure a travel visa before coming to Vietnam. We can help you save time at the airport by helping you complete the necessary paperwork online. It's fast, easy, and can help you start enjoying your vacation from the moment your plane touches the ground.