Category: Vietnam Visa News
Every thing you need to know about Vietnam visa, from latest news to useful experiences shared by travelers and also tips shared by EntryVietnamVisa.com.
Fastest Vietnam Visa Extension Service In Hanoi

1. Vietnam Visa Extension
Visa Extension means that you will have a new permission to further stay in Vietnam without leaving and reentering the country. By this action, you will get an extension stamp on your passport indicating your new stay duration.
It is possible to extend your Vietnam visa as long as the total time of your stay is less than 6 months. For example if you apply for a 3-month tourist visa, you are able to extend it for another 3 months.
You can extend your visa for a single entry only (maximum of 3 months).
You will get an extension stamp on your passport indicating your new stay period.
You can extend your ongoing visa for a maximum of 02 times.
2. Vietnam Visa Renewal
Renew visa means that you are granted a new page sticker on your passport as a new visa with the new duration permission. The visa renewal fee is higher than the visa extension fee because you must pay the stamping fee and visa sticker fee.
Visa renewal is good for those who wish to get a new visa without leaving Vietnam.
You can renew your visa for both multiple/single entry
Unlike visa extension, you will get a new page sticker on your passport as a new visa
Once you are in Vietnam, you can choose between extending your visa or renewing your visa depending on your travel needs. Please find the guide below for more information about how to extend/renew your visa in Vietnam.
3. How to Extend Vietnam visa with EntryVietnamVisa.Com in Hanoi
In case you use our visa extension service, you only need to go through the following 3 steps to get your visa successfully extended.
Step 1:  Send us a soft copy of your passport and the page containing your current Vietnam visa and we will inform whether your visa can be extended or not
Step 2:  Send your original passport to our office in Hanoi or We can arrange our staff to pick up your passport that no charge
Step 3:  Pay and get your passport with extended stay within 7 working days normally or 3 working days in urgent case upon your request
To apply for your Vietnam visa extension, you can send your personal details to our email sale@myvietnamvisaonarrival.org, including your passport scan, current visa scan, the immigration stamp, the latest date of entry, your current address in Vietnam.
Our professional and helpful staffs are willing to help you 24/7. Come with us in order to save time and get more enjoyable things for your trips. Contact with us via email or Hotline +84-904979729 (Phone/WhatsApp)
If you need any advice related to Vietnam Visa, please contact us. Our lawyers and legal experts always support you. We only charge you when you use our visa service and get successful results; any advice in person or by phone, email … is free.
Why Vietnam Visa Extension with us?
10+ years experience: Since 2007, we have assisted over 100,000,000 travelers to successfully extend their visas in Vietnam.
No hidden charge: all the costs of visa extension are clearly communicated with you before the service. We do not charge you anything afterward.
Responsibility: We will sign an agreement with the rights and obligations of each party concerning the visa extension.
Convenience: We can support you to extend your visa no matter where you are in our Vietnam
How to Get a Visa to Vietnam – Your Quick and Easy Guide
Content:
Applicable airports
Processing time
Extra notes
What is Vietnam Visa on Arrival?
Vietnam visa on arrival is a convenient alternative way to obtain valid permission to visit Vietnam. It can be picked up at one of Vietnam international airports upon arrival.
To obtain the visa on arrival for Vietnam, you need to get a visa approval letter in advance. First, you fill out the online application form. Second, you show it at Vietnam airports to get visa stamped onto your passports. No passport sendoff, no document is required to apply for this type of visa for Vietnam.
Is Vietnam Visa on Arrival Legitimate?
Yes, it is.
Getting Vietnam visa on entry at Vietnam airports is a 100% legal process. The authorized visa approval letter is granted by Vietnam Immigration Department. It acts as official permission that allows you to board the airplane and get visa stamped onto passports at Vietnam international airports.
Legal basis:
Ordinance on entry, exit, and residence of foreigners in Vietnam
Government's Decree No. 21/2001/ND-CP
Joint Circular No. 04/2002/TTLT/BCA-BNG
Many centers supply this service to simplify travelers' arrival and save their time.
Types of Vietnam Visa on arrival
In general, the most popular types of Vietnam visa include tourist visa (DL), business visa (DN), working visa (LĐ), and student/internship visa (DH). But a visa on arrival is available for only:
Who Are Eligible for Visa on Arrival for Vietnam?
Most visitors are required to have a valid visa to enter Vietnam and eligible to apply for a Vietnam visa on arrival as long as they travel to Vietnam by air and arrive at one of the international airports in Vietnam. Check this newly updated Visa Exemption List for more details about countries eligible for Vietnam visa on arrival.
List of Applicable Airports
Noi Bai International Airport (Hanoi)
Tan Son Nhat International Airport (Ho Chi Minh City)
Cat Bi International Airport (Hai Phong)
Da Nang International Airport (Da Nang)
Cam Ranh International Airport (Khanh Hoa)
Can Tho International Airport (Can Tho)
Lien Khuong International Airport (Da Lat)
Phu Quoc International Airport (Phu Quoc)
Why Vietnam Visa on Arrival?
Getting Vietnam visa on arrival is:
Fast: For cases of emergency visa, it just takes about 2-3 working hours to get a visa approval letter.
Convenient: No hard documents and passports sent off. Just minimal information required.  Things will be done online.
Low cost: It is rather cheap compared with other forms of getting a visa for Vietnam.
Vietnam Visa on Arrival Fees
When it comes to the cost of Vietnam visa on arrival, there are two types of fee you need to pay:
Service fee: paid online to the agency to obtain the Visa approval letter.
Stamping fee: paid in cash at Vietnam International Airport to get visa stamped.
The fee will depend on the type of visa that you are applying. To see more details, check out our Vietnam visa fee page.
Here is a sample fee board for Vietnam tourist visa provided by EntryVietnamVisa.com:
How to Apply
Submit the application form online for an approval letter
Get approval letter via email and print it out. Prepare Vietnamese visa application form (also known as entry-and-exit application form), 2 passport-sized photos 4x6cm, your passport and cash for stamping fee.
Present prepared documents mentioned above to the officer at Landing VISA (VOA) Counter at the Vietnam international airport to get VISA stamped on your passport.
The above are brief steps for VOA application. See the full guide on how to apply for Vietnam visa on arrival.
Visa on Arrival Processing Time
The duration of processing an approval visa letter is from one (01) working hour to two (02) working days (excluding Saturday, Sunday, and national or international holidays), depending on your selected visa processing time.
Extra Notes
Vietnam visa on arrival is unlike its counterpart in Cambodia, Thailand or Laos which can be obtained right at the entry border gate. Applicants only need to complete. Visa on arrival requires travelers to obtain a visa approval letter beforehand to get visa stamped at Vietnam international airport.
Vietnam visa on arrival is used for air travel only. If you travel to Vietnam by cruise or land, you are required to get a full authorized visa before your arrival.
Your passport must be valid for at least 6 months at your entry time in Vietnam.
Children having their own passports are charged with the same fee as adults.
Up to now, there is NO OFFICIAL website for Vietnam visa on arrival service. All sites supplying the service of getting the approval letter are private agencies. Thus, you should not be confused by a variety of websites with organizational internet domain TLDs (org, gov, etc.)
Frequently Asked Questions
1. What If I change my arrival airport in Vietnam?
It does not matter at all.
As the Visa approval letter (to pick up visa on arrival) works at all 8 international airports of Vietnam (Noi Bai in Hanoi, Cat Bi in Hai Phong, Da Nang in Da Nang, Cam Ranh in Khanh Hoa, Tan Son Nhat in Ho Chi Minh City, Phu Quoc in Phu Quoc island, Lien Khuong in Da Lat and Can Tho in Can Tho city), you can switch your arrival airports among them and get the visa stamped without problems.
2. What if I have unknown travel dates while filling the application form for visa approval letter ?
It does not matter at all. In case you are still not sure about your travel dates, you can provide planned ones when you fill in the online VOA Vietnam application form.
But please be kindly informed that you cannot enter Vietnam sooner than your provided arrival dates but later. So, please carefully consider before putting your dates into the form.
3. Is there any time frame to apply for a visa approval letter for Vietnam ?You can apply for the letter whenever you wish as it becomes valid from the arrival date granted, not from the date you apply for visa or the date you receive the letter.
The latest time to apply for visa approval letter for Vietnam should be 2 working days (for tourist visa) or 7 working days (for business visa) to avoid urgent processing cost.
4. Do I need to contact the Vietnam embassy in case I've got the visa approval letter?
No. When using Vietnam visa on arrival (or VOA Vietnam), you have nothing to work with the Vietnam embassy regarding your visa for Vietnam.
After getting the visa approval letter via email, you only need to print it out together with the attached Vietnamese visa application form (formerly known as Entry and Exit Form) and then get the visa stamped upon arrival at Vietnam airport by showing these forms, original passport, photos and paying for stamping fee there.
5. Do I need to provide any hard document to apply for a Vietnam visa approval letter ?
No. You do not need to provide any document to apply online for the Vietnam visa approval letter, you only need to provide your information, including:
Your contact details (name, email and possibly phone number);
Your travel dates;
Applicant's information (full name, passport number, gender, nationality, date of birth and passport expiry date).
6. Can I get the Vietnam visa directly at Vietnam airport ?
No, you cannot. To get your visa on arrival to Vietnam, an approval letter (pre-approved visa letter) is required. So, you have to apply online via a visa center.
7. Can I pay all two types of fee (including stamping fee) online in advance ?
No, please be advised that you need to pay the stamping fee in cash at the Vietnam international airport upon arrival.
8. Should I use "fast track" service to get the visa stamp faster ?
Yes, we do offer fast-track service that can help you avoid the queue, save your time and energy that can be used for other more interesting activities in Vietnam.
9. How long is wait time for Vietnam visa on arrival?
The wait time for visa on arrival to Vietnam depends on your selected visa processing time. It takes from 01 working hour to 02 working days to get an approval letter via email. After that, you can get a visa for Vietnam upon arrival at Vietnam airports.
Where can I receive my Vietnam visa at the airport?
Primarily when you have your approval letter and necessary documents in need, Vietnam visa can easily be taken in Visa Counter Desk at International Airports.
Due to amount of applicants who simultaneously come to receive Vietnam visa, you might be queue in a waiting line. Normally it takes you 15 to 30 minutes to get your Vietnam visa.Thus to complete this process smoothly, just make sure you've carefully prepare all required documents.
When it comes to your turn, just step forwards and grant your required entry documents to Visa Office, then wait to get your visa stamped.
Finally,don't forget to grasp your luggage before you leave the airport.
#1 Find the Vietnam visa on arrival counter: Stepping into the immigration hall, look to your left. The counter should be at the far end of the hall.
#2 At Vietnam visa on arrival counter, submit passport, print-out of Vietnam visa approval letter, completed entry-exit form and 2 passport-type photos (4*6Cm). Then wait for the officer to process your documents, this may take a while.
#3 When you hear your name being called out and the officer is holding your passport photo up, it means your Vietnam visa is ready. Pay the Vietnam visa stamping fee to the officer. Only cash (USD or VND) is accepted, so make sure your change your money beforehand.
#4 The officer will then return your passport (with Vietnam visa stamped on it) and give you a receipt.
#5 Check all INFORMATION on your Vietnam visa AGAIN. If there is any ERROR, report the officer right away.
#6 With the newly-stamped Vietnam visa, go to Immigration control
It usually takes you to 30 minutes for this whole process. However, if you find yourself behind a large group of people on a tour, it might take longer than that. But still, Vietnam visa on arrival is much cheaper and more convenient than Vietnam Embassy, Consulate visa, so a few minutes of waiting would be alright. If impatience is not your virtue however, you can use our Airport Speed Up service in which our employee would do all the immigration work for you.
To apply for Vietnam visa on arrival with us, please kindly follow these steps:
Step 1: Fill in the Vietnam visa online application form: https://entryvietnamvisa.com/apply-visa/
Step 2: Make online payment
Step3: Get visa approval letter after 2-3 working days via your email and print out
Step4:  Get your visa stamp. Bring the approval letter, your passport, 2 photos and stamping fee to get your visa stamped at the arrival airports.
Intently arrive to the airport at least 2 hours before taking departure, in order to complete the leaving procedure.
Follow the process at baggage check in counter, which suggested for you through airport information board and receive boarding card.
At the leaving counter desk, show your passport, Vietnam visa and boarding card to the check-in clerk in order for controlling and stamping confirmation.
Show the Vietnam visa, passport with the stamping mark, boarding card and luggage at the security control to gain permission through the airport departure lounge.
Carefully follow the instructions of the airport staffs, then queue at the regulative ports (which accurately informed in boarding card). After remain seated, please strictly turn off all automatic devices and get ready for the flight.
Source: https://entryvietnamvisa.com
To Avoid Any Problem When Get Vietnam Visa Stamp At The Airport
Getting Vietnam visa on arrival means you will receive the visa stamp and visa sticker upon arrival at Vietnam Airport with the approval letter which is granted by Vietnam Immigration Department.
Our service will help you process the approval letter within 2 working days (normal service), then you print it out and prepare some documents to get the visa stamp at the airport for entering Vietnam normally. That's all procedure (No need to go to the Embassy in your living country, No need to send us any documents).
Upon arrival at Vietnam International Airport, you go to the Visa Landing Office to obtain the visa sticker. After that, you will come to the Customs Counter to check-in and receive the blue stamp.
To avoid any problem, please check carefully information when you get back passport. There are two stamps in your passport including:
– The entry stamp is the stamp which will show the date you enter Vietnam.
– Permitted days of staying: this stamp shows you are permitted to stay until …day…month…year.
It means you just can stay in Vietnam for number of days on the stamp and must exit Vietnam before the end-day. If not, you have to extend visa to stay in Vietnam longer.
Because there are many visitor arriving Vietnam every day, the Vietnam Immigration Officers have to work continuously, so it is difficult to avoid errors in your passport. That's why you need to check carefully information before leaving the Landing Visa Counter.
Source: https://entryvietnamvisa.com
5 Common Mistakes People Make When Applying for a Visa on Arrival to Vietnam
We have listed the most frequent mistakes our customers have made when applying for a visa on arrival to Vietnam to help you avoid.
#1 – You must apply online in advance: Many people think that they can get a visa directly at Vietnam airport without applying online (like other countries in Asia such as Thailand, Cambodia, Laos..ect). That is NOT true, you may end up having to delay/cancel your flights, or waiting at the airport until the visa is approved. You will need to apply online for an approval letter in order to pick up your visa at a Vietnam airport.
#2 – You can't get a visa on arrival at the border: Visa on arrival works for air travel only, meaning there is NO on arrival visa for overland/border crossing or sea/water entry. So, in case you are NOT entering Vietnam by air, just make sure you have the visa in advance.
#3 – Spelling/typo mistakes: Many applicants fill in the application form with the WRONG details: incorrect spelling of full name on passport, passport number or date of birth. This will lead to declined entry at the departure airport, as the information on the 'letter of approval' does not match what's in your passport. So, make sure that you enter everything correctly and carefully.
#4 – Arrival date: Many people think that the visa validity will start from the date they enter Vietnam, not from the date stated on the visa letter. This is not correct. The visa validity will commence from the date you provide in advance, not from the date you enter the country. So, just make sure that you make a clear plan of when to enter before ordering a visa to Vietnam. For example: the letter says you are allowed to enter and remain in the country for 1 month from September 25th 2018 – this means you must leave the country on or before October 25th 2018 no matter what day you enter the country.
#5 – Visa extension: Many people think that it is easy to extend a visa once they are in Vietnam. In reality, it's not quite that simple. Extending a visa may be a costly and time-consuming process, so, if you know you may have to stay for longer, apply for a three month visa in advance instead of a one month in order to save money on visa extension
We strongly believe that what we have written here is not a complete list of mistakes. If you wish to share/add something, you are welcome to email us at sale@myvietnamvisaonarrival.org.
Tet Nguyen Dan, or Tet for short, is considered the biggest and most popular festival of the year in Vietnam. Celebrated on the first day of the first month in the Lunar Calendar, Tet's celebration is the longest holiday which may last up to seven to nine days. Vietnamese New Year in 2021 will last from 10/Feb/2021 –16/Feb/2021.

How Tet is calculated?
Different from the Gregorian calendar, Lunar Calendar has a fixed number of twelve months with 30 days each, and a leap-year will have a whole intercalary month instead of the 29th day of February. The new year of the Lunar Calendar normally will start in late January or the beginning of February according to the Gregorian calendar. That explains why Tet days vary from year to year: it is because the leap month may fall shorter or longer which creates a smaller or bigger gap between the two calendars.
When is Tet?
* In 2011, Tet day falls on February 3rd
* In 2012, Tet day falls on January 23rd
* In 2013, Tet is on February 10th
* In 2014, Tet is on January 31st
* In 2015, Tet is on February 19th
* In 2016, Tet is on February 8th (actual holiday from Feb 6-14)
* In 2017, Tet is on January 28th, Rooster
* In 2018, Tet is on February 16th, Dog
* In 2019, Tet is on February 05th, Pig
* In 2020, Tet is on January 24th, Rat
The actual holiday will last 1 day before and about 3-5 days after the day mentioned above.
| Year | Date | Actual Days | Holiday | Zodiac |
| --- | --- | --- | --- | --- |
| 2017 | Saturday, January 28 | 26 Jan to 06 Feb | Vietnamese Lunar New Year | Rooster |
| 2018 | Friday, February 16 | 14 Feb to 20 Feb | Vietnamese Lunar New Year | Dog |
| 2019 | Tuesday, February 5 | 3 Feb to 10 Feb | Vietnamese Lunar New Year | Pig |
| 2020 | Tuesday, Jan, 24 | 24/Jan to 30/Jan | Vietnamese Lunar New Year | Rat |
| 2021 | Friday, Feb, 12 | 10/Feb to 16/Feb | Vietnamese Lunar New Year | Buffalo |
Update 2021: If you plan to visit Vietnam during the Tet Holiday, it is strongly advised that you apply for a visa as soon as possible as the embassy offices may close during the holiday time above.
What is Tet?
Tet is the occasion for Vietnamese to express their respect and remembrance for their ancestors as well as welcoming the New Year with their beloved family members. Moreover, in the past, Tet was essential as it provided one of the few long breaks during the agricultural year, which was held between the harvesting of the crops and the sowing of the next ones. To make it easier, one can imagine Tet as a combination of Christmas and New Year: every family will get together to have big meals, decorate Tet trees and eat Tet food but to welcome the new year instead of a religious cause.
How is Tet celebrated?
Since Tet occupies an important role in Vietnamese's religious beliefs, Vietnamese will begin their preparations well in advance of the upcoming New Year. In an effort to get rid of the bad luck of the old year, people will spend a few days cleaning their homes, polishing every utensil, or even repaint and decorate the house with kumquat tree, branches of peach blossom, and many other colorful flowers. The ancestral altar is specially taken care of, with careful decoration of five kinds of fruits and votive papers, along with many religious rituals. Everybody, especially children, buy new clothes and shoes to wear on the first days of New Year. People also try to pay all their pending debts and resolve all the arguments among colleagues, friends or members of the family.
Like other Asian countries, Vietnamese believe that the color of red and yellow will bring good fortune, which may explain why these colors can be seen everywhere in Lunar New Year. People consider what they do on the dawn of Tet will determine their fate for the whole year, hence people always smile and behave as nice as they can in the hope for a better year. Besides, gifts are exchanged between family members and friends and relatives, while children receive lucky money kept in red envelopes.
No matter where Tet is celebrated, it must be clarified from the beginning that Tet is not a day, but several days of celebration.
The general process is as follow (all dates quoted in lunar calendar):
Ông Công, Ông Táo Day (Kitchen God day) – December 23rd
Wrapping Chung cake – December 26-28th
Family reunion and Tất niên – December 30th
Giao thừa – New Year's Eve: including praying sessions to God and Ancestors, Xông đất (First visit to a family in the new year)
First three days of the new year: visit paternal side on the first day, maternal side on the second day, and teachers on the third day
Visit relatives, friends and neighbors: can take place from January 3rd – 5th
Hóa vàng – burn the offerings near Tet's end for ancestors: January 4th
Reopen business: usually, owners pick a good date that matches their age
Tết Nguyên Tiêu: January 15th
Food for Tet
The following food is often consumed during Tet; some are particular to Tet and often associated with the grand celebration:
Banh Chung/ Banh Tet
Pickled onions
Boiled chicken
Mung bean pudding
Vietnamese sausage – giò chả
Xôi Gấc – Red Sticky Rice
Roasted nuts and seeds
Read more about Essential Food for the Tet holiday
Traveling to Vietnam during Tet
Tet has a very special attached meaning to all Vietnamese. It is the time for everybody to come back to their hometown, gathering with family, visiting relatives and having a good relaxing time after a hard-working year. If you have the opportunity to visit Vietnam during the Tet holiday, make sure you join this festive and happy moment of Vietnamese!
How to get to Ban Gioc waterfall ?
Ban Gioc Waterfall is one of Vietnam's best-known waterfalls, and its image adorns the lobby of many a cheap guesthouse. The falls, fed by the Quay Son River that marks the border with China, are an impressive sight and in a highly scenic location.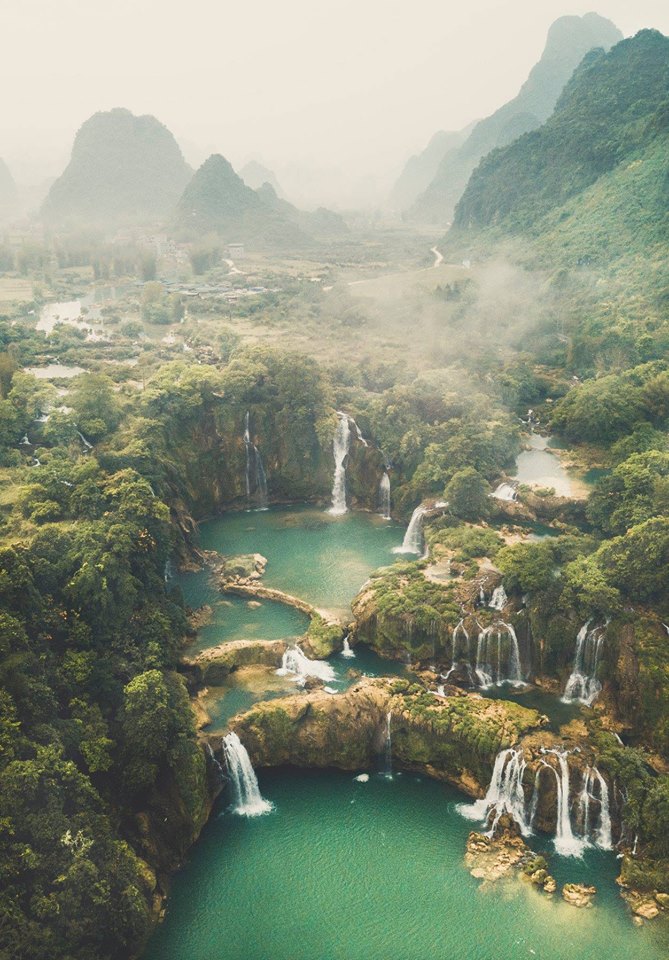 A police permit (200,000d for up to 10 people) is required to visit this region but the permit can be purchased at the police station here beside the waterfall. You'll need to show your passport.
Frequent buses link Cao Bang and the waterfall, a trip of two hours (80,000d, hourly from 5.30am to 6pm).
Boat owners here will punt you on bamboo rafts (100,000d) close enough to the waterfall so you can feel the spray on your hair (bring shampoo!) and skin. Rafts on the Vietnamese side have green canopies, and on the Chinese side canopies are blue. You're allowed to swim in the large natural pool on the Vietnamese side, but not in the river or close to the main waterfall.
There are numerous souvenir, snack and drink stalls by the cave and waterfall, and the only accommodation in the immediate area is the Saigon Ban Gioc Resort
How to get Vietnam visa on Tet holiday 2021?
Vietnam visa on arrival during Vietnamese Tet Holiday (Lunar New Year Festival)
The Immigration Department will be closed on these days. So, if you plan to travel to Vietnam during Tet holiday, make sure you obtain the visa at least 2 days in advance. If you do not aware about this peak season or you suddenly plan to come to Vietnam in this period, don't worry! You still can apply for rush Vietnam visa in non-working hours with us.
Calendar for Tet Holiday in 2021
The Traditional Vietnamese New Year Holidays (Tet Holiday) in 2021 will be taken from 10/Feb/2021 – 16/Feb/2021. The official days off is 7 days in total.

How To Apply?
Step 1: Apply Online via Our Website
Click here to apply online. Fill out the form with your personal information and type of visa you choose.
With "Process Times" is "Overtime/Weekend/Holiday".
Check your flight time and Vietnam time to ensure that you have enough time to arrange your visa. Normally, it will take 4 – 6 hours to complete your visa and the Vietnam Immigration Department will issue the visa approval letter from 8:00 AM to 17:00 Vietnam time (GMT+7).
For example, if your flight departs at 3:00 AM Vietnam time and you need a visa approval letter in 2 hours, it is not possible! You should change your flight to the next days that we would have more time to arrange your visa.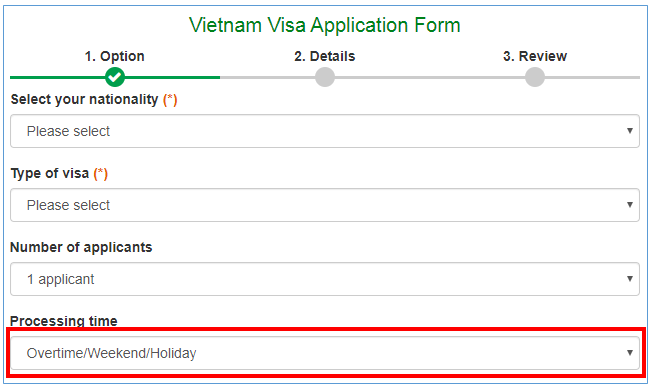 Please note that rush visa is only available for tourist visa. If you apply business visa, you need to wait for after Tet holiday.
Step 2: Receive Email from Us
After applying and making the payment, you will receive an email to inform about your visa status. You follow the guidance in this email to do the next step.
In some special case, we need your flight's information so that we can help you to get visa on arrival more effectively.
Step 3: Get visa on arrival
After 4 – 6 hours you will receive a visa approval letter via email
With visa approval letter and detailed guidance in the email we send to you, you can get visa on arrival easily. We have assistant at the airport to help you on these days, so don't worry about the procedure on arrival.
Contact Us
In case you need an urgent services, or ask any information about rush visa in Tet holiday, please send an email to us though:sale@myvietnamvisaonarrival.org , or you can make a phone call via Phone: +84 904-879-729 or leave a message via Whatsapp: +84 904-879-729
We are here to help you!