Category: Vietnam Visa News
Every thing you need to know about Vietnam visa, from latest news to useful experiences shared by travelers and also tips shared by EntryVietnamVisa.com.
E visa Vietnam is now available for citizens of the 80 countries who wish to stay in Vietnam for no more than 30 days.
Andorra
Greece
Palau
Argentina
Hungary
Panama
Armenia
Iceland
Papua New Guinea
Australia
India
Peru
Austria
Ireland
Philippines
Azerbaijan
Italy
Poland
Belarus
Japan
Portugal
Belgium
Kazakhstan
Qatar
Bosnia and Herzegovina
Korea (South)
Romania
Brazil
Latvia
Russia
Bruney
Liechtenstein
Samoa
Bulgaria
Lithuania
San Marino
Canada
Luxembourg
Serbia
Chile
Macedonia The former Yugoslav of
Slovakia
China
(Including Hong Kong SAR and Macau SAR passport holders)
(Not apply to Chinese e-passport holders, i.e a passport having its number starting with E)
Malta
Slovenia
Colombia
Marshall Islands
Solomon Islands
Croatia
Mexico
Spain
Cuba
Micronesia Federated States of
Sweden
Cyprus
Moldova
Switzerland
Czech Republic
Monaco
Timor Leste
Denmark
Mongolia
United Arab Emirates
Estonia
Montenegro
United Kingdom of Great Britain and Northern Ireland
Fiji
Myanmar
United States of America
Finland
Nauru
Uruguay
France
Netherland
Vanuatu
Georgia
New Zealand
Venezuela
Germany
Norway
Applicable Ports of Entry for Vietnam E visa online
Holders of Vietnamese e-visas are allowed to enter the country through one of the following 33 ports:
| | | |
| --- | --- | --- |
| Airports | Landports | Seaports |
| Cat Bi Int Airport (Hai Phong) | Bo Y Landport | Chan May Seaport |
| Cam Ranh Int Airport (Khanh Hoa) | Cha Lo Landport | Da Nang Seaport |
| Can Tho International Airport | Cau Treo Landport | Duong Dong Seaport |
| Da Nang International Airport | Huu Nghi Landport | Hon Gai Seaport |
| Noi Bai Int Airport (Hanoi) | Ha Tien Landport | Hai Phong Seaport |
| Phu Bai Int Airport | Lao Bao Landport | Nha Trang Seaport |
| Tan Son Nhat Int Airport (Ho Chi Minh City) | Lao Cai Landport | Quy Nhon Seaport |
| | La Lay Landport | Ho Chi Minh City Seaport |
| | Moc Bai Landport | Vung Tau Seaport |
| | Mong Cai Landport | |
| | Nam Can Landport | |
| | Na Meo Landport | |
| | Song Tien Landport | |
| | Tinh Bien Landport | |
| | Tay Trang Landport | |
| | Xa Mat Landport | |
Fastest Vietnam Visa Extension Service At Hanoi city
1. Vietnam Visa Extension
Visa Extension means that you will have new permission to further stay in Vietnam without leaving and reentering the country. By this action, you will get an extension stamp on your passport indicating your new stay duration.
It is possible to extend your Vietnam visa as long as the total time of your stay is less than 6 months. For example, if you apply for a 3-month tourist visa, you are able to extend it for another 3 months.
You can extend your visa for a single entry only (a maximum of 3 months).
You will get an extension stamp on your passport indicating your new stay period.
You can extend your ongoing visa for a maximum of 02 times.
2. Vietnam Visa Renewal
Renew visa means that you are granted a new page sticker on your passport as a new visa with the new duration permission. The visa renewal fee is higher than the visa extension fee because you must pay the stamping fee and visa sticker fee.
Visa renewal is good for those who wish to get a new visa without leaving Vietnam.
You can renew your visa for both multiple/single entry
Unlike visa extension, you will get a new page sticker on your passport as a new visa
Once you are in Vietnam, you can choose between extending your visa or renewing your visa depending on your travel needs. Please find the guide below for more information about how to extend/renew your visa in Vietnam.
3. How to extend Vietnam visa with EntryVietnamVisa.Com
In case you use our visa extension service, you only need to go through the following 3 steps to get your visa successfully extended.
Step 1:  Send us a soft copy of your passport and the page containing your current Vietnam visa and we will inform you whether your visa can be extended or not
Step 2:  Send your original passport to our office in Hanoi or We can arrange for our staff to pick up your passport that no charge
Step 3:  Pay and get your passport with extended stay within 7 working days normally or 3 working days in urgent case upon your request
To apply for your Vietnam visa extension, you can send your personal details to our email sale@myvietnamvisaonarrival.org, including your passport scan, current visa scan, immigration stamp, the latest date of entry, and your current address in Vietnam.
Our professional and helpful staffs are willing to help you 24/7. Come with us in order to save time and get more enjoyable things for your trips. Contact us via email or Hotline at +84904.879.729 (Phone/WhatsApp)
If you need any advice related to Vietnam Visa, please contact us. Our lawyers and legal experts always support you. We only charge you when you use our visa service and get successful results; any advice in person or by phone, or email is free.
12 years experience: Since 2010, we have assisted over 45K travelers to successfully extend their visas in Vietnam.
No hidden charge: all the costs of visa extension are clearly communicated to you before the service. We do not charge you anything afterward.
Responsibility: We will sign an agreement with the rights and obligations of each party concerning the visa extension.
Convenience: We can support you to extend your visa no matter where you are in Vietnam
Vietnam Visa Requirements and Application Process – How to Apply
Visiting Vietnam is an excellent option for people looking for a new experience. From sunny beaches to delicious cuisine and vibrant cultural attractions, Vietnam is a rewarding destination.
Before traveling, it is important to know the Vietnam visa requirements. These steps will help you navigate the process.
Do I Need a Visa for Vietnam?
Most visitors will need a visa to enter Vietnam. People in many African countries and parts of Asia are exempt from Vietnam visa requirements. Citizens of North American and European countries will need to obtain a visa.
Why? Visas are required by most countries for citizens of other countries to enter. Some governments require visitors to obtain a visa prior to arriving, while others issue visas to people upon arrival. Vietnam visa requirements are actually a combination of these two approaches. Visitors must apply in advance for a visa approval letter, and then obtain the official visa stamp in their passports upon arrival in the country. Fortunately, the application for a visa approval letter can be completed and submitted online.
How to Do a Vietnam Visa Application Online
To make the process easier for you, Vietnam Visa is here to help you with the process of obtaining a visa for travel to Vietnam. Our online application is quick and easy, as well as fully supported by our knowledgeable staff. We recommend you choose to get a visa on arrival, as picking up your visa at all Vietnamese international airports is simple and convenient. Just follow the online process beforehand, and you will be ready to get your visa stamp in Vietnam.
Here's how to apply for a Vietnam Visa online in 4 easy steps:
Here's how to apply for a Vietnam Visa online in 4 easy steps:
STEP 1
Get started by filling out the secure online form. This step is necessary for obtaining an approval letter, which you will need to show upon arrival in Vietnam to get your visa stamp.
Fill in the application using the correct information regarding your name, passport number, date of birth, nationality, gender, and arrival date. We accept most major credit cards: Visa, MasterCard, and American Express.
STEP 2
Confirm and pay. Vietnam visa fees are quite reasonable. For the visa approval letter, you pay a fee online, $10 and up, depending on the type of visa and how many you are requesting. You will also pay a fee upon arrival for the visa stamp. This will cost an additional $25 for a single entry visa and $50 for multiple entries. The stamping fee is paid in cash in either Vietnamese dong or US dollars, so be prepared to have the correct fee amount before you depart for Vietnam.
Make sure your passport has plenty of blank pages for visa stamps before you leave. Also, be sure that your passport will have at least six months of validity remaining at the date of your arrival in Vietnam. If your passport is nearing its expiration date, get it renewed well before you leave.
STEP 3
Receive and print the approval letter. As soon as you submit your application and payment, we will start processing your visa request. Once you have submitted your online application for a visa approval letter, you will typically receive the approval letter via email within 2 business days. It is very important that you print the letter, in color if possible, and bring it with you. It is a good idea to keep your visa approval letter with your passport, so you know where it is and can conveniently find it when you arrive at the airport in Vietnam.
You will also need to prepare and bring at least two (4cm x 6cm) passport photos.
STEP 4
Get your visa stamp upon arrival at one of four Vietnam international airports. Travelers arriving at airports in Hanoi, Da Nang, Ho Chi Minh City, or Nha Trang, are required to complete an Entry/Exit form (available at the airports or by the previous download from our website). You will then present your approval letter, passport, photos, and cash payment for the stamping fee in order to receive the visa stamp in your passport.
Just follow the signs and instructions at the airport, and you will be ready for a rewarding visit.
We Are Here to Help You Prepare for a Great Visit
For further assistance, you can contact us at sale@myvietnamvisaonarrival.org or through our hotline at (+84) 904 879 729
We guarantee our services, which include:
Prompt support via email or phone
Secure 128/256 bit SSL encryption
Guaranteed 48-hour processing
Special fee from $10 – no credit card surcharges
Money-back guarantee for declined applications
Travelers can also apply for visas to visit Vietnam through their local Vietnam Embassies. For further details on applying through an embassy, please visit Vietnam Embassies worldwide.
Where can I receive my Vietnam visa at the airport?
Primarily when you have your approval letter and necessary documents in need, Vietnam visa can easily be taken in Visa Counter Desk at International Airports.
Due to amount of applicants who simultaneously come to receive Vietnam visa, you might be queue in a waiting line. Normally it takes you 15 to 30 minutes to get your Vietnam visa.Thus to complete this process smoothly, just make sure you've carefully prepare all required documents.
When it comes to your turn, just step forwards and grant your required entry documents to Visa Office, then wait to get your visa stamped.
Finally,don't forget to grasp your luggage before you leave the airport.
#1 Find the Vietnam visa on arrival counter: Stepping into the immigration hall, look to your left. The counter should be at the far end of the hall.
#2 At Vietnam visa on arrival counter, submit passport, print-out of Vietnam visa approval letter, completed entry-exit form and 2 passport-type photos (4*6Cm). Then wait for the officer to process your documents, this may take a while.
#3 When you hear your name being called out and the officer is holding your passport photo up, it means your Vietnam visa is ready. Pay the Vietnam visa stamping fee to the officer. Only cash (USD or VND) is accepted, so make sure your change your money beforehand.
#4 The officer will then return your passport (with Vietnam visa stamped on it) and give you a receipt.
#5 Check all INFORMATION on your Vietnam visa AGAIN. If there is any ERROR, report the officer right away.
#6 With the newly-stamped Vietnam visa, go to Immigration control
It usually takes you to 30 minutes for this whole process. However, if you find yourself behind a large group of people on a tour, it might take longer than that. But still, Vietnam visa on arrival is much cheaper and more convenient than Vietnam Embassy, Consulate visa, so a few minutes of waiting would be alright. If impatience is not your virtue however, you can use our Airport Speed Up service in which our employee would do all the immigration work for you.
To apply for Vietnam visa on arrival with us, please kindly follow these steps:
Step 1: Fill in the Vietnam visa online application form: https://entryvietnamvisa.com/apply-visa/
Step 2: Make online payment
Step3: Get visa approval letter after 2-3 working days via your email and print out
Step4:  Get your visa stamp. Bring the approval letter, your passport, 2 photos and stamping fee to get your visa stamped at the arrival airports.
Intently arrive to the airport at least 2 hours before taking departure, in order to complete the leaving procedure.
Follow the process at baggage check in counter, which suggested for you through airport information board and receive boarding card.
At the leaving counter desk, show your passport, Vietnam visa and boarding card to the check-in clerk in order for controlling and stamping confirmation.
Show the Vietnam visa, passport with the stamping mark, boarding card and luggage at the security control to gain permission through the airport departure lounge.
Carefully follow the instructions of the airport staffs, then queue at the regulative ports (which accurately informed in boarding card). After remain seated, please strictly turn off all automatic devices and get ready for the flight.
Source: https://entryvietnamvisa.com
To Avoid Any Problem When Get Vietnam Visa Stamp At The Airport
Getting Vietnam visa on arrival means you will receive the visa stamp and visa sticker upon arrival at Vietnam Airport with the approval letter which is granted by Vietnam Immigration Department.
Our service will help you process the approval letter within 2 working days (normal service), then you print it out and prepare some documents to get the visa stamp at the airport for entering Vietnam normally. That's all procedure (No need to go to the Embassy in your living country, No need to send us any documents).
Upon arrival at Vietnam International Airport, you go to the Visa Landing Office to obtain the visa sticker. After that, you will come to the Customs Counter to check-in and receive the blue stamp.
To avoid any problem, please check carefully information when you get back passport. There are two stamps in your passport including:
– The entry stamp is the stamp which will show the date you enter Vietnam.
– Permitted days of staying: this stamp shows you are permitted to stay until …day…month…year.
It means you just can stay in Vietnam for number of days on the stamp and must exit Vietnam before the end-day. If not, you have to extend visa to stay in Vietnam longer.
Because there are many visitor arriving Vietnam every day, the Vietnam Immigration Officers have to work continuously, so it is difficult to avoid errors in your passport. That's why you need to check carefully information before leaving the Landing Visa Counter.
Source: https://entryvietnamvisa.com
5 Common Mistakes People Make When Applying for a Visa on Arrival to Vietnam
We have listed the most frequent mistakes our customers have made when applying for a visa on arrival to Vietnam to help you avoid.
#1 – You must apply online in advance: Many people think that they can get a visa directly at Vietnam airport without applying online (like other countries in Asia such as Thailand, Cambodia, Laos..ect). That is NOT true, you may end up having to delay/cancel your flights, or waiting at the airport until the visa is approved. You will need to apply online for an approval letter in order to pick up your visa at a Vietnam airport.
#2 – You can't get a visa on arrival at the border: Visa on arrival works for air travel only, meaning there is NO on arrival visa for overland/border crossing or sea/water entry. So, in case you are NOT entering Vietnam by air, just make sure you have the visa in advance.
#3 – Spelling/typo mistakes: Many applicants fill in the application form with the WRONG details: incorrect spelling of full name on passport, passport number or date of birth. This will lead to declined entry at the departure airport, as the information on the 'letter of approval' does not match what's in your passport. So, make sure that you enter everything correctly and carefully.
#4 – Arrival date: Many people think that the visa validity will start from the date they enter Vietnam, not from the date stated on the visa letter. This is not correct. The visa validity will commence from the date you provide in advance, not from the date you enter the country. So, just make sure that you make a clear plan of when to enter before ordering a visa to Vietnam. For example: the letter says you are allowed to enter and remain in the country for 1 month from September 25th 2018 – this means you must leave the country on or before October 25th 2018 no matter what day you enter the country.
#5 – Visa extension: Many people think that it is easy to extend a visa once they are in Vietnam. In reality, it's not quite that simple. Extending a visa may be a costly and time-consuming process, so, if you know you may have to stay for longer, apply for a three month visa in advance instead of a one month in order to save money on visa extension
We strongly believe that what we have written here is not a complete list of mistakes. If you wish to share/add something, you are welcome to email us at sale@myvietnamvisaonarrival.org.
Vietnam New Year 2023, Tet Nguyen Dan, or Tet for short, is considered the biggest and most popular festival of the year in Vietnam. Celebrated on the first day of the first month in the Lunar Calendar, the Tet celebration is the longest holiday which may last up to seven to nine days. Vietnamese New Year in 2023 will last from 20/Jan/2023 – 29/Jan/2023.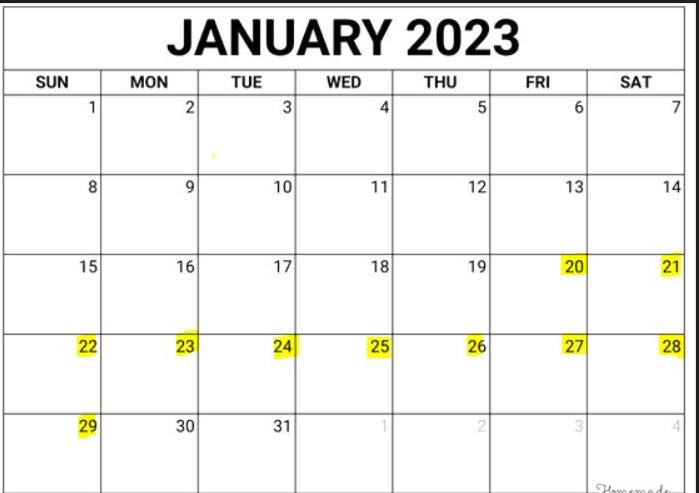 Notes: Vietnam Immigration Department is issuing eVisa- 1-month Single entry for many countries. If you've planned your trip to Vietnam, apply for a visa in advance from now on Apply Vietnamese Visa Now!
Vietnamese New Year in 2023 will last from 20/Jan/2023 – 29/Jan/2023 & at this time you still apply for a Vietnamese visa but the visa price is so high.
How Tet is calculated?
Different from the Gregorian calendar, Lunar Calendar has a fixed number of twelve months with 30 days each, and a leap year will have a whole intercalary month instead of the 29th day of February. The new year of the Lunar Calendar normally will start in late January or the beginning of February according to the Gregorian calendar. That explains why Tet days vary from year to year: it is because the leap month may fall shorter or longer which creates a smaller or bigger gap between the two calendars.
When is Tet?
* In 2011, Tet day falls on February 3rd
* In 2012, Tet day falls on January 23rd
* In 2013, Tet is on February 10th
* In 2014, Tet is on January 31st
* In 2015, Tet is on February 19th
* In 2016, Tet is on February 8th (actual holiday from Feb 6-14)
* In 2017, Tet is on January 28th, Rooster
* In 2018, Tet is on February 16th, Dog
* In 2019, Tet is on February 05th, Pig
* In 2020, Tet is on January 24th, Rat
*In 2021, Tet  is on February 2022 1st, Buffalo
*In 2022, Tet is on January 2023 23rd, Cat
The actual holiday will last 1 day before and about 3-5 days after the day mentioned above.
| Year | Date | Actual Days | Holiday | Zodiac |
| --- | --- | --- | --- | --- |
| 2017 | Saturday, January 28 | 26 Jan to 06 Feb | Vietnamese Lunar New Year | Rooster |
| 2018 | Friday, February 16 | 14 Feb to 20 Feb | Vietnamese Lunar New Year | Dog |
| 2019 | Tuesday, February 5 | 3 Feb to 10 Feb | Vietnamese Lunar New Year | Pig |
| 2020 | Tuesday, Jan, 24 | 24/Jan to 30/Jan | Vietnamese Lunar New Year | Rat |
| 2021 | Friday, Feb, 12 | 10/Feb to 16/Feb | Vietnamese Lunar New Year | Buffalo |
| 2022 | Sunday, 23rd |  20/Jan/2023 – 29/Jan/2023 | Vietnamese Lunar New Year | Cat |
Update 2022: If you plan to visit Vietnam during the Tet Holiday, it is strongly advised that you apply for a visa as soon as possible as the embassy offices may close during the holiday time above.
What is Tet?
Tet is the occasion for Vietnamese to express their respect and remembrance for their ancestors as well as welcome the New Year with their beloved family members. Moreover, in the past, Tet was essential as it provided one of the few long breaks during the agricultural year, which was held between the harvesting of the crops and the sowing of the next ones. To make it easier, one can imagine Tet as a combination of Christmas and New Year: every family will get together to have big meals, decorate Tet trees and eat Tet food but to welcome the new year instead of a religious cause.
How is Tet celebrated?
Since Tet occupies an important role in Vietnamese's religious beliefs, Vietnamese will begin their preparations well in advance of the upcoming New Year. In an effort to get rid of the bad luck of the old year, people will spend a few days cleaning their homes, polishing every utensil, or even repaint and decorate the house with kumquat trees, branches of peach blossoms, and many other colorful flowers. The ancestral altar is specially taken care of, with careful decoration of five kinds of fruits and votive papers, along with many religious rituals. Everybody, especially children, buys new clothes and shoes to wear on the first days of New Year. People also try to pay all their pending debts and resolve all the arguments among colleagues, friends, or members of the family.
Like other Asian countries, the Vietnamese believe that the color red and yellow will bring good fortune, which may explain why these colors can be seen everywhere on Lunar New Year. People consider what they do on the dawn of Tet will determine their fate for the whole year, hence people always smile and behave as nicely as they can in the hope of a better year. Besides, gifts are exchanged between family members and friends and relatives, while children receive lucky money kept in red envelopes.
No matter where Tet is celebrated, it must be clarified from the beginning that Tet is not a day, but several days of celebration.
The general process is as follows (all dates quoted in the lunar calendar):
Ông Công, Ông Táo Day (Kitchen God day) – December 23rd
Wrapping Chung cake – December 26-28th
Family reunion and Tất niên – December 30th
Giao thừa – New Year's Eve: including praying sessions to God and Ancestors, Xông đất (First visit a family in the new year)
The first three days of the new year: visit the paternal side on the first day, the maternal side on the second day, and teachers on the third day
Visit relatives, friends, and neighbors: can take place from January 3rd – 5th
Hóa vàng – burn the offerings near Tet's end for ancestors: January 4th
Reopen business: usually, owners pick a good date that matches their age
Tết Nguyên Tiêu: January 15th
Food for Tet
The following food is often consumed during Tet; some are particular to Tet and often associated with the grand celebration:
Banh Chung/ Banh Tet
Pickled onions
Boiled chicken
Mung bean pudding
Vietnamese sausage – giò chả
Xôi Gấc – Red Sticky Rice
Roasted nuts and seeds
Read more about Essential Food for the Tet holiday
Traveling to Vietnam during Tet
Tet has a very special attached meaning to all Vietnamese. It is the time for everybody to come back to their hometown, gather with family, visit relatives, and have a good relaxing time after a hard-working year. If you have the opportunity to visit Vietnam during the Tet holiday, make sure you join this festive and happy moment for Vietnamese!
How To Obtain Vietnam Tourist Visa ?
How to get to Ban Gioc waterfall ?
Ban Gioc Waterfall is one of Vietnam's best-known waterfalls, and its image adorns the lobby of many a cheap guesthouse. The falls, fed by the Quay Son River that marks the border with China, are an impressive sight and in a highly scenic location.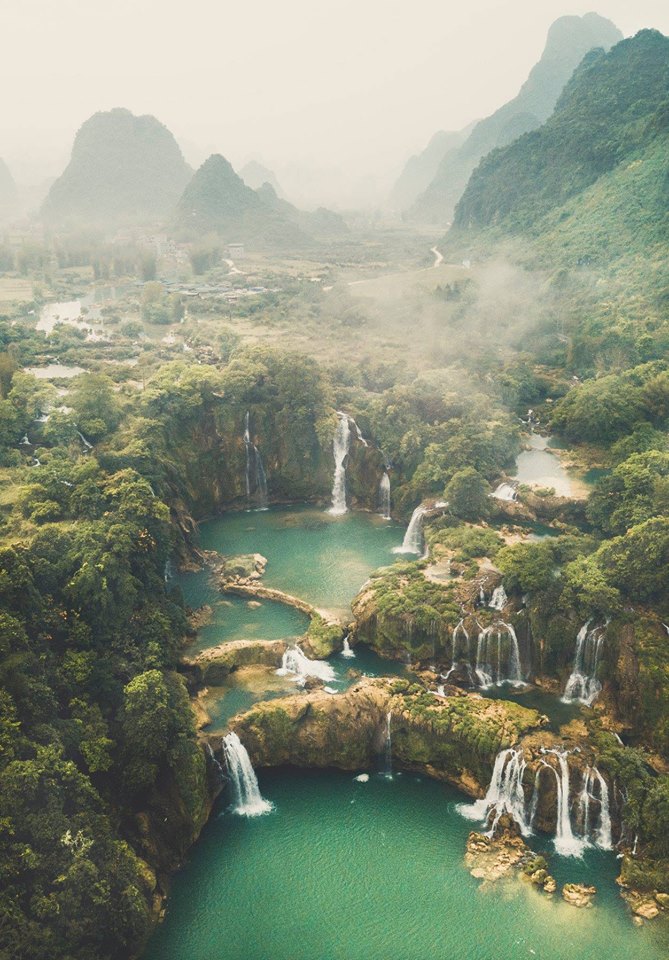 A police permit (200,000d for up to 10 people) is required to visit this region but the permit can be purchased at the police station here beside the waterfall. You'll need to show your passport.
Frequent buses link Cao Bang and the waterfall, a trip of two hours (80,000d, hourly from 5.30am to 6pm).
Boat owners here will punt you on bamboo rafts (100,000d) close enough to the waterfall so you can feel the spray on your hair (bring shampoo!) and skin. Rafts on the Vietnamese side have green canopies, and on the Chinese side canopies are blue. You're allowed to swim in the large natural pool on the Vietnamese side, but not in the river or close to the main waterfall.
There are numerous souvenir, snack and drink stalls by the cave and waterfall, and the only accommodation in the immediate area is the Saigon Ban Gioc Resort