The Vietnam electronic visa, also known as Vietnam evisa or Vietnam e-visa, is a straightforward and convenient online visa approval process that is open to residents of 80 countries. The e-Visa payment and delivery are conducted entirely online, and the process typically takes three business days. These are the essential details to keep in mind when applying for a Vietnam eVisa.
Learn all about How to apply for Vietnam evisa online with this guide 
How Vietnam evisa works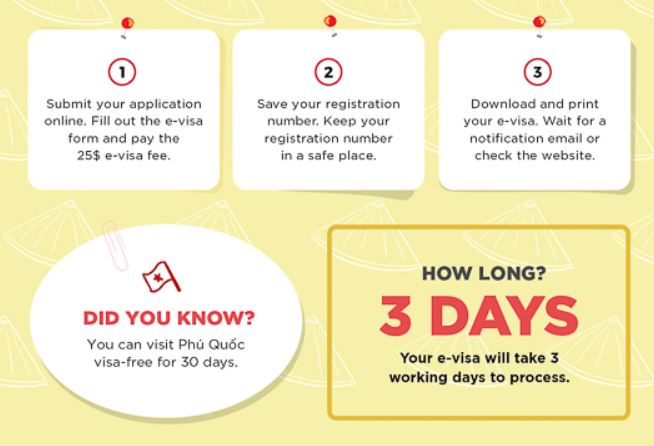 What is Vietnam evisa?
The Vietnam Immigration Department provides multiple visa options to foreign visitors, with the eVisa being one of them. The eVisa allows a single entry into the country and is valid for 30 days. It can be obtained at a cost of 25 USD through online payment methods and typically requires three full business days for processing. Currently, nationals of 80 countries are eligible to apply for Vietnam evisa, as of July 2020.
What You Need for a Vietnam evisa?
Prior to submitting your application, it is crucial to verify that your nationality is included in the list of eligible countries for Vietnam evisa.
Andorra, Argentina, Armenia, Australia, Austria, Azerbaijan, Belarus, Belgium, Bosnia and Herzegovina, Brazil, Brunei Darussalam, Bulgaria, Canada, Chile, China (including Hong Kong SAR and Macau SAR passport holders, not applicable to Chinese e-passport holders), Colombia, Croatia, Cuba, Cyprus, Czech Republic, Denmark, Estonia, Fiji, Finland, France, Georgia, Germany, Greece, Hungary, Iceland, India, Ireland, Italy, Japan, Kazakhstan, Latvia, Liechtenstein, Lithuania, Luxembourg, Macedonia, Malta, Marshall Islands, Mexico, Micronesia, Moldova, Monaco, Mongolia, Montenegro, Myanmar, Nauru, Netherlands, New Zealand, Norway, Palau, Panama, Philippines, Poland, Portugal, Qatar, Republic of Korea, Romania, Russia, Salomons Islands, San Marino, Serbia, Slovakia, Slovenia, Spain, Sweden, Switzerland, Timor Leste, United Arab Emirates, United Kingdom of Great Britain and Northern Ireland, United States of America, Uruguay, Vanuatu, Venezuela, and Western Samoa.
What are Vietnam eVisa Requirements?
Your passport with six months validity
Your passport photo with full 4 corners
Your portrait photo with (4x6cm, white background, without glasses, dont smile, recent photo)
How to Apply for a Vietnam eVisa
Open the government official website for Vietnam eVisa Application: https://immigration.gov.vn/ and Select ELECTRONIC EVISA
Upload your passport and portrait photo
Fill up all required info from your passport data page
Fill up all required info regarding your trip
Pay the e-Visa fee using any of the payment methods offered
Receive your registration code and save the number
TIP: To be sure to save your registration number – you will need it to check and download your evisa later on
Where you can download your Vietnam eVisa
Open the government's official website for downloading your Vietnam eVisa: https://immigration.gov.vn/web/guest/tra-cuu-thi-thuc
How do you use your eVisa in Vietnam
When arriving in Vietnam, you must present your passport and the printed copy of your eVisa to the immigration counter.
It is crucial to note that your declared arrival checkpoint on your Vietnam evisa must match the actual arrival checkpoint. If you want to change your arrival checkpoint the only way is to apply for a new evisa
TIP: Keep your printed eVisa to show on departure.
Why our Vietnam evisa service
For more than a decade, we have been the leading provider of Visa Services in Vietnam due to several key factors.
You won't need to personally fill out the application with the Vietnam Government as we will handle it for you. This ensures that you won't have to worry about providing incorrect information on your application form.
You won't need to monitor the status of your evisa processing as we will take care of it for you.
Our Fees are as follows:
| | |
| --- | --- |
| Process Time | Fee (USD/Pax) |
| 3 – 5 working days | $45 |
| More details | Hotline/WhatsApp: +84.904.879.729 |
FQAs- about Vietnam eVisa
Q. Can I get an extension on my 30-day e-Visa?
A. Currently the visa extension service is not available for you.
Q. Can I enter Vietnam after the entry date on my application?
A. Your visa is valid from the start to end dates specified. You can enter the country any time within those dates.
Q. Do I need to queue at the Visa on Arrival counter in Vietnam?
A. You do not need to queue at Visa on Arrival counters. You can bring your printed e-Visa and passport directly to the immigration counter.