How to get a private Vietnam visa on arrival?
Basically, this is our free extra service put into use since 2013 aiming to secure our customer's privacy. The service make sure your passport details is safe and not shared to others. In fact, your personal information (full name, nationality, passport number and arrival airport) can be revealed in a shared approval letter and people can easily make the search through Google or Yahoo or other search engines to learn about you but with our private Vietnam visa on arrival service, it is no longer your concern…
EntryVietnamVisa.com is one of the first and the only website providing special secured Private Vietnam visa on arrival in separated approval letter issued by the Vietnam Immigration Department.
Why use a private Vietnam visa on arrival?
Normally, visa agencies and the Vietnam Immigration Department process several orders at the same time. It is common to get like 15-30 applicants on the same approval letter. It depends of course on when you made the order. In high seasons, you will find many other applicants on your visa-approval letter. You will then share full name, passport numbers, date of birth, nationality, entry date and visa type.
You don't need to worry, this is a normal process. BUT we do understand the need for privacy and to protect your information. In some countries the passport numbers are almost the same as the personal number. This is why we have launched the private Vietnam visa. For users who wish to keep their passport details private, we offer this service. We make sure customers information is protected through the whole process. Until recently, separate processing is only available at the embassies.
The difference between private and shared visa approval letter
Sample of a private visa approval letter, which is an unique name appears in an issued document: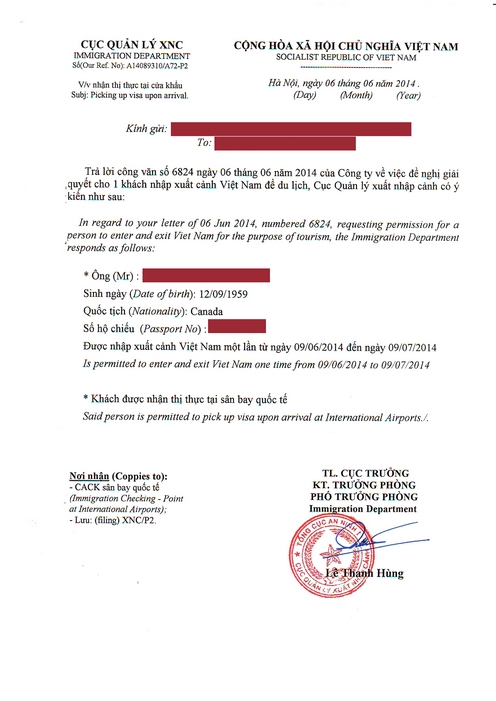 A shared visa approval letter with a dozen of stranger names: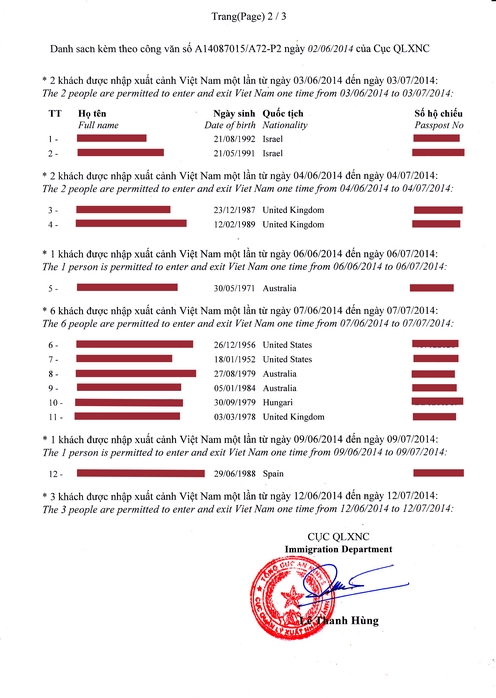 How to apply for a private Vietnam visa on arrival?
When you apply for a Vietnam visa via e-Vietnamvisa.com, you are guaranteed to get a private approval letter. You don't need to do any special things or pay any extra fees for this special service, just apply for Vietnam visa as follow:
Step 1: Fill out the online application form
Go online application form to fill in with required information and check it carefully before submitting to make sure everything correct as it appears in your passport.
Step 2: Conduct a payment as the guidance
The payment can be made by PayPal, Western Union or via bank wire transfer. Upon payment completion, you will get a confirmation from our booking system.
Step 3: Get a private visa approval letter
After 2 working days (normal processing) or 1 working day (urgent processing) you will get a private visa approval letter delivered via email. You just need to print out the letter, prepare 2 passport sized photos, your valid passport and some USD for stamping fee. An entry and exit form is required to fill in advance to save your time at arrival airport.
Step 4: Get your visa stamped
Take all above mentioned documents in step 3 to board your flight to Vietnam. At arrival airport check point, you will present these documents, pay the stamping fee and get a visa stamped onto your passport.
If you have any further queries, comments or feedback, please kindly call us by +84-904-879-729 or send an email to entryvietnamvisabooking@gmail.com. We are happy to assist you at our best.